2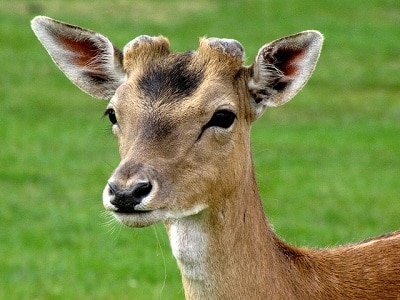 Shed Antlers: A Natural Process for Deer
Deer are among the most mystical creatures on the planet. Long sought after by hunters. The cause of many 'oohs' and 'ahs' among children and hikers. A regular sighting in many regions throughout the world.
But with how common deer are throughout North America, it's surprising how little most people know about them. We're aiming to change that.
Today we're going to take a look at how and why deer shed their antlers.
What are antlers?
Antlers on deer are, for all intents and purposes, an extension of bone.
Honeycombed bone, to be exact, that grows outside of the body. They extend outward from the pedicles. These are permanent fixtures on a deer's head that develop during the first year of the buck's life.
Each year, the antlers protrude outward from the pedicles.
There may be slight differences in the antlers year to year.
A buck's health is one major reason for this.
The antlers will develop quickly. The process usually doesn't take longer than two to four months and starts late in the Spring here in North America.
Testosterone, the male hormone, is the main factor in how a deer's antlers will develop. Velvet is formed.
Over the course of the Spring, Summer, and Fall, the deer will typically rub his antlers against trees.
The velvet, as a result, shrinks and starts to tumble off, a procedure that actually benefits the animal because the antlers are strengthened and grow back again the next year.
The entire procedure is rehashed every Spring, and as long as the deer maintains decent testosterone levels he will keep his antlers deep into the Autumn season.
Here is a time lapse antler growth video:
Natural cycles which cause deer to shed their antlers
Why do deer shed their antlers?
It may not surprise you to learn that the reason this happens is purely natural. It all starts during the rut. Throughout this time, deer begin to lose the velvet on their antlers. It usually begins to happen in November in North America.
The biggest reason behind this is a drop in testosterone in the deer. As the testosterone drops, the antlers begin to loosen and eventually fall off. Without high levels of testosterone, the deer experience a weakening in the tissue, as well as the bones, at the base of the antlers.
Once a significantly low point is reached, the antlers fall off.
When does this happen?
There is a defined evolutionary process behind the shedding of a deer's antlers. How familiar are you with photoperiods? Photoperiods act alongside the testorone to develop the antlers and determine when they will fall off. Genes also help determine early or late development and shedding of antlers because family history can have an impact on the overall health of the deer.
Emotional factors play into this as well. Deer experience social anxiety much like humans, which has a negative impact on their health and thus can lead to earlier dropping of the antlers.
A deer will generally lose his antlers at a similar point every year, barring medical emergency. Testosterone levels rise during the development and the subsequent shedding of the velvet. As the seasons begin to change, the physiological reaction of antler shedding is triggered.
When should a hunter get out and find the sheds?
Depending on where you are located in North America, early spring is typically the best time. Those in Colorado and southern parts of the country can start earlier because it typically warms earlier than it does in Canada, Minnesota, and other northern and colder areas.
We like to point out that while antlers can be found year round, the rise in popularity of collecting them generally means that if you aren't on the ball early in the spring, there's a strong chance that you will miss out entirely.
February for southern areas is a great time to start. Further north, March into April will suffice. Often, it depends on snow melt because the antlers might get covered over the course of the winter.
Light snow years mean that antler hunters can get out earlier than during heavy snow years. Ar15 with best scope for deer hunting is good choice in a deer hunt
Here is a great video of a buck shedding antlers.
How long does it take for a deer to lose its antlers?
This all depends on how rapidly the deer's testosterone levels drop.
In many cases, this can happen in less than two days. The antlers may appear to be firmly affixed one day. Then, as the rut progresses and natural cycles occur, the antlers begin to loosed rapidly
Before long, a sudden jerk of the head or scare from afar puts that final feather on the dam. The tissue is no longer strong enough to support the antlers, and as a result they simply fall off.
Generally speaking, peak condition bucks will hold onto their antlers longer than unhealthy or weaker bucks. They are able to maintain stronger tissue and remain in better physical condition, resulting in higher than average antler-to-head durability.
Late drop can be affected by a few distinct causes. Variable deer populations in an area play a big role. Low population means shedding won't optimize until late March or April.
Second, first-year grovels that achieve rearing weight their first winter will come into estrous. This for the most part happens well after the pinnacle groove and is the primary driver of the second trench in many spots.
Also, circumstances like these will keep a buck's testosterone levels higher for longer periods of time. If there is a lot of rivalry going on among male bucks, testosterone levels will peak. Strong mating seasons also have a similar effect.
Conclusion
Now you've got a general understanding of why and when deer shed their antlers.
The most important thing to keep in mind is what part of the continent you're in. We can't emphasize this enough- get out early! Early season leads to better antlers that are found with more ease and less time.
If you've enjoyed this article, please give us a share on social media. We all love deer, hunting, and antler collecting. Help us spread the good vibes! If you have specific hints on antler collecting that relate to your area, leave them in the comments below. Let's make this the ultimate resource for antler knowledge!