2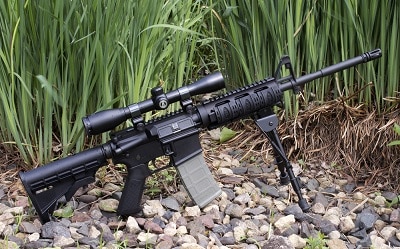 The Best AR-15 Scope to Help You Shoot Effortlessly
There are so many scopes available these days that it can be tough to determine which one is the best AR-15 scope.
As many have learned, the vast majority are completely overrated.
What we've got here today is a list of the five best AR-15 scopes, and why each one made the list.
One stands tall above the rest, but each of these has something to offer. But first, quick check out the other choices:
Top 5 Best AR-15 Scope Brands
This is my review of 5 best AR-15 scopes on the market, and it will help you find the top equipment for hunting. In this article, I only discuss rifle scopes, not red dot sight brands or iron sights. If you want to find the best red dot for an AR-15, you should check here. Now let's check out the best AR-15 scope brands:
Vortex rockets itself onto the list of best scopes with this Diamondback model.
It's sleek and effective, and I bought one years ago and recently bought this model and love the optics.
The glass has a perfect view and takes little to no time to adjust. Plus, the reticle is spot on and looks realistic.
Here are the top features:
The visibility and range of this scope are second to none.
Numerous rounds don't offset the visibility or accuracy, unless there's a lot of movement. I've held zero for over 300 rounds and have friends who did the same.
I find the crosshair very helpful.
Tuning the sight to your liking takes just a few seconds.
2. Nikon M-223 4-16x42M BDC 600
If you are looking for a great scope for your AR-15 that won't break the bank, you need to check out the Nikon M-223.
Need to adjust and stay on target? Nikon's Rapid Action Turret technology has you covered. You can dial in your elevation from 100 to 600 yards in less than one turn.
This scope is easy on the eyes, literally. Nikon's Eye Box technology gives you 4-times zoom range with 4-inches of eye relief.
You need your target to be clear as day. This scope delivers with a 95-percent light transmission rate, giving you clarity whether you're shooting at noon, dusk, or dawn.
You don't have ever worry about your optics fogging up. The Nikon M-223 is nitrogen sealed, making it fog proof. It is also waterproof and shockproof.
For those that want even more accuracy, the side focus parallax adjustment is something you are going to want to use.
2. UTG 3-12X44 30mm Compact Scope, AO, 36-color Mil-dot, Rings
When looking for the best AR-15 scope, there is really only one viable option: the UTG 3-12X44 30mm. This scope—renowned for its accuracy and dependability in tough field situations— has risen as the cream of the crop for three main reasons:
The zeroing capability: Not only is this product simple and straight forward while zeroing, it holds the zero better than any scope on the market. Not to mention, it also is a great package value without the need to purchase a bunch of expensive add-ons. Even after removing the scope and reattaching it, your aim will remain perfect. It makes a good shooter feel like a great shooter!
It's durability: Instead of buying a poor-quality scope and needing to replace it every year or two, this UTG will last a lifetime if it's properly cared for. The 3x zoom is perfect for zeroing on 50 yards and nailing the preferred portion of the target from 100 yards with no problem.
Performance: Take it out as far as 900 yards and back to zero without losing focus or confidence in what you are doing. The scope is easily mountable, adjustable, and simple to master— even for new shooters.
Overall, this UTG scope is of the elite products for an AR-15 that you'll find. I've been using it for years without need to get maintenance done. Honestly, I never want to try another scope, period. This is the top of the line.
3. Bushnell Tactical Elite SMRS 1-8.5x 24mm Illuminated BTR-2 FFP Reticle Riflescope, Black Matte
For hunters looking to transition between close quarters and midrange targets, the Bushnell Tactical Elite Short Midrange Rifle Scope has you covered.
This scope has a 1 to 8.5x magnification, as well as a 24mm objective lens.
Your target is always in sight with the BTR-2 (FFP) reticle. The reticle has 11 levels of illumination, giving you a clear view in just about any condition.
The scope features a one-piece tube, 34-millimeter construction, with a black matte finish that reduces glare.
No matter where you are hunting, this scope has you covered with fully waterproof construction. It can even stay dry when immersed in up to three feet of water for half an hour.
Don't worry about the temperature either. Argon gas inside the scope keeps everything clear and fog-free, no matter what the ambient temperature may be.
5. CVLIFE Hunting Rifle Scope 6-24x50 AOE Red and Green Illuminated Gun Scope with Free Mount
This is the scope to choose for shooters who need vision enhancement on multiple AR-15's.
Deer hunters seem to like taking this scope to pinpoint moving animals. Keeping the target in range across long distances is a breeze, as well as accounting for their body movements.
It's accuracy incredibly useful while trying to strike a specific target without making an errors.
However, be careful on those high-recoil weapons. If this scope is loose or not properly affixed, it can jolt back and strike you. In some rare cases, it might cause injury.
Nonetheless, the problem is easily avoided by double checking to make sure everything is secured. Other than that, this is a solid option.
You'll get accustomed to how it feels on your gun because it's easy to find your rhythm with AR-15's when you're zeroed and the scope stays consistent.
Take a look at the list for the best AR-15 scope brands again:
Vortex Optics Diamondback Second Focal Plane Riflescopes

(Editor's Choice)

Nikon P-223 3-9x40 Mate BDC 600

UTG 3-12X44 30mm Compact Scope, AO, 36-color Mil-dot, Rings (Good in price range)

Bushnell Optics FFP Illuminated BTR-1 BDC Reticle-223 Riflescope 1-4x/24mm

CVLIFE Hunting Rifle Scope 2.5-10x40e Red & Green Illuminated Gun Scopes with 20mm & 11mm Mount
Head-to-head comparison
Two of the best AR-15 scope products stand out from this list. First, the Vortex Optics Strike Eagle 1-6 x 24 AR-BDC Reticle is the industry leader in its class, and it's a great option.
The Nikon Prostaff is the second best AR-15 scope. It's consistent and sustains better than the others on this list. The Nikon scope works well for novice and uninformed hunters, but doesn't stack up against these two. The others products perform well, but they don't quite match up.
Hence, the Vortex Spitfire holds the title as the best AR-15 scope. It comes highly recommended and will impress even the most skeptical of hunters.
The Benefits Of Using An AR Scope
If you're a first-time buyer and you're on the fence about whether you should get a scope or not, this section is for you. Believe it or not, using a scope with your AR-15 makes a world of difference. Here are some of the advantages:
It offers a clear and precise shot from long distances.

Accurate shots help you save bullets.

Fast and reliable target acquisition.

Provides night vision so you can catch large buck in the evening.

Offers light transmission so you can get a clear view of the target.
Obviously, there are plenty of other benefits to using a scope, but surely this list was enough to convince you to get one. Without question, it'll improve your shooting experience.
What You Should Do Before Buying Rifle Scopes
When you're on the hunt for the best AR-15 scope, there are a few things you should take into consideration. The last thing you want to is to buy something that's a disappointment and doesn't perform well. Make sure you do some research before you make a purchase. Here's what you should like out for:
Find The Right Scope
This bit of advice might seem ridiculous, but it's an important one. When you're shopping around, it's easy to get caught up with cheap prices, bells and whistles, and pretty much anything that doesn't benefit you. Make sure you only buy what you need—otherwise, it's a waste.
Thoroughly Read Reviews
Never take a product rating for face value. Go through and read all the reviews, both good and bad. More importantly, pay attention to the negative reviews that point out flaws about the scope. Unfortunately, some customers end up with faulty merchandise. But pay close attention repetition—when multiple people complain about the same thing, listen!
Make Sure the Scope And Rifle Are Compatible.
This is a biggie. Although it might seem like a no-brainer, this is a common mistake folks make when purchasing a new rifle scope.
Check For A Warranty
A lot of brands offer warranties, which is great because anything can happen when you're out shooting. If you can, try to get a scope with a lifetime warranty, so you can replace the product breaks or has a defect.
Final Thoughts On The Best AR-15 Scope
If you have enjoyed this article, or have other scopes to suggest, go ahead and leave a comment below.
Also, please share on social media. Sharing is caring, and in the hunting world, the more informed we all are, the better we'll be going forward.