1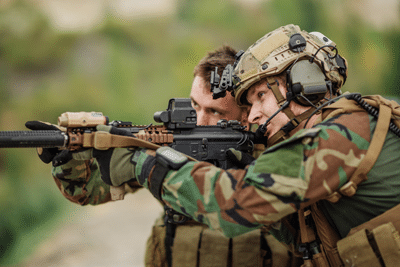 The Best Red Dot Sight for the AR-15 Rifle
Red dot sights are by far the most popular choice for AR-15's and other AR-frame weapons. Likewise, there are hundreds of different options available on the market. Everyone has their personal favorites, but we can all agree that it is very difficult to decide which is the best red dot sight.
In this article, we will review six of the best red dot sight products available.
These optics are all great choices, and will serve your weapon well.
We'll discuss all of them in terms of pros and cons, and then we'll provide some buying recommendations for the best red dot sight.
Top Our Pick For Best Red Dot Sight For Ar 15 In 2019
Review of 6 Best Red Dot For AR 15 On The Market
PRODUCT
PRODUCT TITLE

Bushnell Trophy TRS-25 Red Dot Sight Riflescope

Extremely compact
Amber-Bright technology
Shockproof

CHECK ON AMAZON

Vortex Optics Strikefire II Red Dot Sights

Extremely easy to use
Very durable
Waterproof

CHECK ON AMAZON

Ohuhu Red Green Dot Gun Sight Scope Reflex Sight with 4 Reticles

Extremely small
Made with an Allen key
No eye relief and no parallax

CHECK ON AMAZON

Holosun HS503C Paralow 133x54x72mm Circle Dot SightHolosun HS503C Paralow 133x54x72mm Circle Dot Sight

Durable and reliable
Ease of use
Solar power

CHECK ON AMAZON

UTG 4.2" ITA Red/Green CQB Dot with QD Mount, Riser Adaptor

Waterproof
Fogproof
Shockproof

CHECK ON AMAZON

Sig Sauer SOR52001 Romeo5 1x20mm Compact 2 Moa Red Dot Sight, Black

Extremely compact size
Very durable
Optical settings

CHECK ON AMAZON
Continue reading for our full review of the best red dot sight for an AR-15.
1. Bushnell Trophy TRS-25 Red Dot Sight Riflescope
This red dot sight from Bushnell is extremely compact. It measures only 2.4 inches long, and only weighs 3.6 ounces—you'll hardly notice that it's attached to your rifle.

And even better, this scope has unlimited eye relief. You can shoot it with your head placed wherever you want, and with both eyes open. As long as your zero is accurate, your shots will be on target. Just like with the Vortex, this allows for incredibly fast target acquisition.

In terms of light transmission, this scope also performs as well as the Vortex. It has Bushnell's Amber-Bright technology, and the internals are fully multi-coated. The front lens is amber in color, which improves vision down the sight. However, this scope isn't quite as bright, because the objective lens is 5mm smaller and slightly limits the amount of light that can enter the optic.

Another similarity to the Vortex is that the scope offers a high level of durability. It's waterproof, shockproof, and fog proof—which is excellent for hunting.

On the other hand, this scope starts to lag a little behind the Vortex is in its accuracy. The reticle of this optic— which is a simple red dot— is 3 MOA in size. It's a pretty large reticle, and at longer distances, the target might completely be covered by the reticle. As you can imagine, that makes it difficult for precise shooting at longer ranges.

Overall, this is an excellent value for the product. It's a quality scope and will serve your AR-15 well. While some have experienced issues with the newer version of this scope, we did not have any problems with ours. It was bright and easy to see the field of view.
2 .Vortex Optics Strikefire II Red Dot Sights
I'm sure you've heard of Vortex Optics—they are well-known and respected throughout the industry. They produce many different optical products, including rifle scopes and tactical-style red dot sights. The brand offers an excellent combination of quality and affordability.

The Strikefire II is an internal reflex sight that has very bright red or green reticle. It's super easy to use and offers relatively accurate shooting. The entire system is designed for AR-frame weapons, so it's naturally a great choice.

The optic measures 5.6 inches long and weighs 7.2 ounces. The objective lens is 30 millimeters, and the internals are fully multi-coated, which allows maximum light transmission: it makes the scope very bright and easy to see through.

When you're looking down the optic, there is no parallax, and red dot provides unlimited eye relief, which allows for easy shooting with both eyes open. The reticle is a simple dot, but there are 10 brightness levels, and you can choose between red or green. The lowest settings are night vision compatible and it makes the sight acquire its targets quickly.

When you power the scope up with the rear-facing controls, it instantly reverts back to the previous brightness setting. If you accidentally leave the power on, it will automatically turn off after 12 hours—significantly increasing the battery life.

The scope itself is also very durable. It is waterproof, shockproof, and fog-proof. The optic is made from an aluminum alloy and has been given a hard anodized finish to match. This optic would be great for hunting or any other outdoor shooting, because of how durable it is. Another aspect of the durability of this scope is that it holds your zero for thousands of rounds.

It super easy to make adjustments with this scope and each click results in a ½ MOA movement; it makes your point of impact move by half of an inch at 100 yards. For an AR-15, this is an incredibly precise adjustment, which allows for very accurate shooting.

Overall, this sight is really easy to use, and it's packed with features. It offers the best bang for your buck. We discovered that it was simple and enjoyable to shoot, and we are able to shoot accurately with it.
3. Burris Fastfire III With Picatinny Mount 3 MOA Sight
The Burris Fastfire is great if you have multiple firearms you'd like to interchange it with. It works well on hunting rifles, shotguns, and handguns. Not only that, it's equipped for increased target acquisition.
It's easy to remove the mFounts, and the Fastfire's recoil tolerance is top-notch. It can endure the recoil of a 0.45 semi-automatic handgun with ease.
Furthermore, this product lets you change the dot's elevation without using any other equipment. You can set it on auto-bright or manually adjust the brightness yourself.
For the cost, the Burris Fastfire III is an awesome value. Plus it provides perfect alignment with the target and hits directly where the sight is pointed.
The only downer is that you won't get a good mount from this sight if you want to put it on a revolver. You'd do better using another product that's more specific to your needs.
4. Holosun HS503C Paralow 133x54x72mm Circle Dot Sight
This sight from Holosun is a very basic red dot sight. However, don't let that turn you off from how high quality it is. It's actually one of our favorite red dot sights, despite its simplicity.

The optic measures 5.24 inches long, and weighs in at a tiny 4.25 ounces. As you can see, it's a really small optic. It's an internal reflex style red dot, which means that it's a small tube with two lenses and the actual reticle is inside the tube, between the lenses. The dot is red, and the scope has no magnification.

When most people hear the term "red dot sight," they think about an external reflex sight. An internal reflex sight works pretty much the same, but the reticle and lights are all on the inside. In my opinion, they are more durable and reliable than external reflex sights, and I think they look a little better.

The pros of this optic are it's ease of use, solar power, and durability.

When we say the ease of use, we mean it in so many different ways. For starters, firing it is a breeze, and the reticle is simple. It's a basic dot reticle or a circle/dot combination, which makes it super simple to acquire targets and shoot accurately.

The optic is also adjusted, as most red dots are. All you have to do is open the turrets, and use the simple mechanism to move the reticle. You can clearly to hear and feel the clicks, and it gives you peace of mind in that zero.

Another component of its ease of use is how straightforward it is to install the optic. It has a crossbar style mount, meaning that you can mount it to either Picatinny or Weaver style rails.

The solar power also aids in the simplicity of the scope. Solar energy is something not commonly used in optics. For us, we really liked the feature. The reticle brightness adjusts to the light outside, and when it's bright enough to power the solar panel, the optic stays on the entire time. As you can imagine, this makes it so simple to use.

This scope also has a battery backup, when it's not bright enough out to use solar power. The battery life is fantastic, and the scope automatically turns off after a waiting period.

The con of this optic is that it's quite pricey, and it isn't the most precise optic available. The cost is primarily due to the solar power, and similar optics without this feature are less expensive —based on my research. But in our opinion, it's worth the extra money.
5. UTG 4.2" ITA Red/Green CQB Dot with QD Mount, Riser Adaptor
The UTG 4.2-inch ITA scope is affordably priced, but it offers some decent features. While it isn't the highest quality scope available, it definitely works for basic tactical uses and range shooting. You wouldn't shoot in competitions with it, but it's doable.

It measures 4.17 inches long and weighs 9.8 ounces. Similar to the last optic, it's a standard red dot with no magnification. However, it's different because it has a T-style reticle, which is either red or green.

The highlights of this product are its simplicity and durability. While the optics of the previous sight are better quality, this scope is average—for basic shooting, it works just fine.

The ease of this scope is similar to the Holosun— therefore, we won't repeat the same features. However, this product has a quick detach base, allowing you to flip a lever to remove it from a Picatinny rail.

As with the Holosun, UTG is also a durable optic. It's waterproof, fog-proof, and shockproof, and the internals are durable enough to withstand the recoil of multiple weapons. Plus, you can use it on shotguns and rifles with large calibers as well.

Unfortunately, the downside is that the reticle isn't as simple to operate, isn't bright enough, and it's not precise. I prefer the circle/dot combination reticle over the T-style—it makes the target acquisition slightly slower, and it's harder to get an accurate shot.

Speaking of the reticle, on bright days it can be challenging to see. The red dot works better than the green dot, but both are hard to view when it's sunny outside.

Plus, the adjustments of this optic are low as well. If you're shooting at longer distances, it's challenging to be accurate with this scope. The reticle is large, and you can't adjust it properly.
6. Sig Sauer SOR52001 Romeo5 1x20mm Compact 2 Moa Red Dot Sight, Black
Last up, we've got an excellent optic from Sig Sauer. Similar to the previous two optics, this one is an internal reflex sight that is very compact in nature and has no magnification range.
It only measures 2.47 inches long and weighs only 5.1 ounces. As you can see, this is a tiny optic. It's got a simple 2 MOA red dot style reticle, and really does have some great features. In regard to optical clarity, this may be my favorite on the list.
The biggest advantage of this weapon—other than it's compact size—is its durability, MOTAC, and optical settings. As with all of the other optics, this one is very durable. However, Sig takes it to another level by guaranteeing that the optic is IPX-7 rated.
The MOTAC is a Sig creation. Essentially, the optic is motion activated and will turn on when it senses motion, and turns off when it doesn't— It's that simple. It saves a lot of battery. I still prefer the solar power of the Holosun, but by a very slim margin.
Another advantage of this product is that it has two night vision settings to go along with its eight standard settings. It has a wider variety than the other optics mentioned.
Just like the other sights on the list, the red dot is large, and the adjustments aren't that precise. It's difficult for longer range shooting, but it works for CQB style shooting, and casual range use.
Buying Recommendations for the best red dot sight
Now that we've discussed the scopes, let's go over some buying recommendations.
Simply put, the Vortex is the best of the group.
If you are going to be shooting in low-light conditions or under night vision, the Vortex is the right choice. It will allow more light to pass through, and will be easier to see down.
For hunting, the Bushnell and the Vortex are both great options, because of how durable they are.
The Advantages Of Using A Red Dot
The primary advantage of using a red dot sight over other optical scopes is that it's more affordable. Not only that, but they're a lot safer than sights that use holographic technology. Unfortunately, if a holographic sight breaks, your eye could potentially come into contact with the laser and cause damage.
Another great benefit of red dots is that it spots targets quickly. The scope accommodates a variety of firearm sizes, and it helps you precisely view your target with both eyes.
What To Look For When Buying The Best Red Dot Sight
Luckily, one red dot sight fits a variety of AR-15's within the same class—which helps you save money on buying multiple equipment. With that said, you want to choose one that's durable, has good performance, and is interchangeable.
You can find a cheap red dot for about fifty bucks, but we'd advise you to stay away from those. Primarily because you'll find yourself replacing it regularly—it's best to invest in a quality dot and save yourself the headache.
In regards to the MOA dot size to get, 4MOA will due for professional shooters. It usually does well on multiple types of guns, especially rifles. On the other hand, if you're a private consumer range, 2MOA to 3.5MOA is the best fit.
Lastly, you have to make sure you get a size you're comfortable with. A dot that's too large makes it difficult to see the target clearly, and one that's too little is distracting.
Final Thoughts On The Best Red Dot Sight
Hopefully, our review of the best red dot sight was useful to you. When considering some of the things that we mentioned, it should be easier for you to select an optic for your weapon.
Buying a the best red dot sight for your AR is an overwhelming experience. Choosing one of these, especially the Bushnell or the Vortex, will be a great choice for you.
For range shooting, either of these two options is a great choice. They are both good optics, but the Vortex may be slightly more accurate, especially at longer distance.