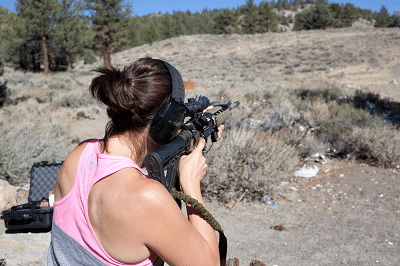 Vortex Optics Diamondback 4-12×40 Riflescope Review
In this article we will review this extremely popular riflescope from Vortex Optics.
Vortex is very popular in the industry, and for good reason. They produce some extremely high quality optics, and are available at a pretty reasonable cost.
We will fully review the optic in terms of pros and cons, and make some buying recommendations.
The Features of Vortex Diamondback 4-12×40
This optic measures in at 12.8 inches long with a 40mm objective lens. The magnification range is from 4-12x, and the eye relief is 3.1 inches. Your field of view through the scope is 32.4-11.3 feet at 100 yards.
In terms of size, this scope is not that large, despite its magnification range.
It has some weight to it, but compared to other scopes with similar magnification, this one is definitely around the same size.
The eye relief is somewhat short, but it definitely works for shooting this scope.
Highlights About Optics Diamondback 4-12×40
The scope offers some excellent optical features.
The internals of the scope are fully multi-coated. This allows for maximum light transmission, especially when paired with the large 40mm objective lens.
To put it simply, this light allows maximum light to go through, so you will be able to clearly see everything through the scope.
Another huge pro of this scope is that the reticle is on the second focal plane.
This means that while you change the magnification range, the scale of the reticle remains the exact same. Especially when you are using the bullet drop compensating reticle at longer distance, this is a huge pro for you.
Pros of this product
Cons
In terms of the optics though, there are a couple cons that we found. For one, dependent on the range at which you zero the rifle, the parallax at close range makes the scope nearly unshootable.
However, this scope really isn't meant for shooting at close range, as evidenced by the minimum 4x magnification.
Another cons that we identified is that the eye relief is pretty unforgiving.
While the scope can withstand the recoil, the eye relief is pretty difficult to manage, especially with larger caliber weapons.
When using a higher magnification, this eye relief becomes difficult to manage.
Lastly, it can have some glare in it at some times. We would recommend adding a sunshade to optimize this scope.
Comparison with another scope
We will compare this scope to some of its competition: the Leupold VX-R 4-12x40mm and Nikon P-308 4-12x40mm. This comparison will give you an idea about what to expect when purchasing the Vortex Optics Diamondback.
As is well known, Leupold makes some of the highest quality scopes on the market. When comparing the Vortex to the Leupold, the Leupold is clearly a better scope (in my opinion). The optics are way clearer, it is just as durable, and we found the reticle to be easier to use. However, Leupold scopes are notoriously expensive.
Comparing the Nikon and the Vortex is a much closer comparison. Nikon offers great optical features, but the scopes are extremely similar in the end. They are both very accurate and easy to shoot with. The reticles are comparable, and the scopes are nearly identical overall. We give a slight edge to the Vortex, but it is very close.
Recommendation
Upon first looking at this best scope for an AR-15, it's clear to see that it's obviously meant for long range hunting or hunting with a larger caliber weapon.
It is extremely durable, and it can withstand any recoil from the weapon. As such, it's great for big game hunting or for use when shooting shotgun slugs.
However, that's not to say that it's impossible to use the scope for anything else.
Due to how precise the adjustments can be on this scope, you could use this for longer range target shooting.
After all, this scope does zoom out to 12x, and it does have ¼ MOA adjustments. For target shooting of this nature, the eye relief may not be as much of a concern either.
Conclusion
Overall, this is a quality scope that offers some great optical features. It is very clear, and extremely durable.
While there are some shortcomings that are to be expected of a scope of this nature, it is a great product for multiple uses when it's all said and done.
Regardless of your use for the scope, you will pleased with its performance overall.