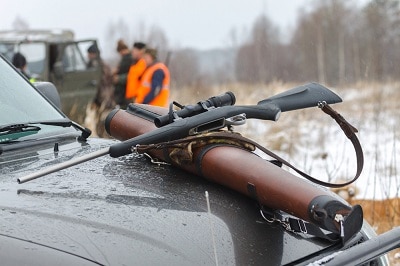 Can You Use a Rifle Scope on a Shotgun?
Using a shotgun to shoot a slug is very common, and they are often used in the same situation as a rifle would be used.
However, when it comes to adding optics, the two are slightly different?
Wondering whether or not you should use a rifle scope on your shotgun? Look no further.
When considering whether you should use a rifle scope on your shotgun, there are a few key factors to consider: recoil, eye relief, and effective range.
Recoil
Eye Relief
Effective Range
What about Recoil when shot a rifle scope on shotgun?
Shooting a shotgun, even when using a slug, creates a good bit more recoil than using a standard hunting rifle.
While many do not consider it, recoil affects your scope.
Constantly being rattled around by the recoil of the weapon can affect the accuracy of the scope.
Shotgun scopes are generally sturdier, and are built to withstand the recoil from a shotgun.
Rifle scopes are generally not built to withstand the same amount of recoil, so that leads to problems.
These problems could range from inaccuracy over time to potentially even ruining the scope.
When making your decision, be sure to keep the recoil of the weapon in mind.
Eye Relief
So what's the Eye Relief?
Eye relief refers to how close your eye has to be to the scope to effectively see down it.
The eye relief of a shotgun scope is generally longer than the eye relief of a rifle scope.
The primary reason for this is that the shotgun scope has to take into effect the amount of recoil that the weapon produces.
Using a rifle scope means that you will have a shorter eye relief.
When you do this, you run the risk of potentially having your weapon's recoil cause the scope to hit you in the eye.
While it sounds unlikely, it is entirely possible given the worst circumstances.
Effective Range
When I say effective range, I mean the range at which a particular firearm can fire accurately.
For a shotgun shooting slugs, a general rule of thumb is that the effective range is approximately 75 yards.
While it varies greatly based on the exact weapon and ammunition, rifle ranges can extend well past that.
For that reason, the two types of scopes must be designed differently. A shotgun scope is perfected to work within 100 yards, while rifle scopes can be accurately used out to 300+ yards.
As a result, the required magnifications changes drastically. Rifle scopes are generally more magnified, as they are designed to be used at a greater distance.
Following from the maximum effective range, the scopes will have different reticles, in order to be more accurately and effectively used at their designed range.
Conclusion
While it is not impossible to use a rifle scope on a shotgun, I would NOT recommend it. Best shotgun scope will work well on your shotgun
It can be done, but I would urge you to do a lot of research. Due to the differences in effective range, eye relief, and recoil of the designed weapon, the different scopes will have vast differences.
I would recommend getting a specific shotgun scope, but the choice is ultimately up to you. I would hate to hear about an expensive rifle scope getting ruined by using it on a shotgun, as I have heard of before.