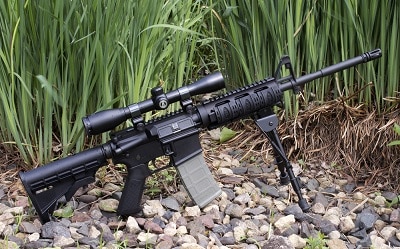 Which is Better Between a Vortex Strike Eagle vs Viper PST?
In this article, we will compare two rifle scopes made by Vortex. Those are Vortex Viper 1-4x24 vs Vortex Strike Eagle 1-6x24 AR BDC Reticle.
These rifles will be compared in terms of accuracy, durability, capabilities, and price. Finally, we will make some recommendations about when to use each scope.
Vortex Viper 1-4x24 Review
The Vortex Viper Precision Shooting Tactical (PST) is a variable zoom rifle scope with some excellent features. It is made of high quality materials, is very durable, and is an accurate scope. It has a 30mm tube, measures 9.7 inches long, and weighs 14.4 ounces. At 100 yards, the field of view is 98-27.5 feet, and each turret adjustment results in a ½ MOA change. The eye relief is 4 inches.
The pros of this scope are the accuracy, durability, and ease of use.
In terms of accuracy, this scope is very accurate for a few reasons.
First, the optics are multicoated, and the tube is 30mm in diameter. This allows for increased light transmission, which makes it easier to see down the scope.
The reticle is illuminated, etched in glass, and is on the second focal pane. This makes it always easy to see, and keeps the scale the same.
Pair these features with the small adjustment, and this makes for a very accurate scope.
The scope is also waterproof, fogproof, and shockproof. It has an ArmorTrek exterior finishing. All in all, this is a very durable and reliable rifle scope.
Another great feature of the scope is how easy it is to use. The capped turrets have a reset, so it is easy to zero after sighting in the scope. The internals of the turrets are extremely precise, which makes for reliable sight adjustments. The turrets and magnification setting also have fiber optics, to make it easier to see where it is set.
The reticle is what Vortex calls a Tactical Milling Close Quarter (TMCQ) reticle. It has some hashmarks for ranging, but isn't as easy to use at range as some of the other reticles we have seen. The primary aiming point is relatively easy to pick up, but not as fast as some others.
Vortex Strike Eagle 1-6x24 Review
The Strike Eagle from Vortex is similar to the Viper PST. It is also a variable zoom rifle scope with a 30mm tube, but offers more magnification. The scope measures 10.5 inches, weighs 17.6 ounces, and has a 3.5 inch eye relief. At 100 yards, the field of view is 116-19.2 feet.
This scope has almost the exact same features as the Viper PST. It has fully multicoated optics and a wide tube. The turret adjustments are still ½ MOA increments. The reticle is also illuminated and glass-etched on the second focal pane. It is just as accurate as the Viper PST.
The durability is nearly the same as the Viper PST. It is waterproof, fogproof, shockproof, and has a hard finish on its exterior.
Similarly, the turrets have a reset, just like on the Viper PST. However, the turrent adjustment mechanics aren't as precise, although we didn't experience any issues.
What is different between Strike Eagle and the Viper PST
The primary differences between the Strike Eagle and the Viper PST is that the Strike Eagle can zoom further, offers a wider field of view, has a shorter eye relief, and has a slightly better reticle in our opinion.
The shorter eye relief gives you the wider field of view, but will make it slightly more difficult to reacquire targets, depending on how much recoil your rifle has.
The reticle has wider posts, which make for easier target acquisition. The reticle is also a bullet drop compensator (BDC) style reticle, which makes it easier to shoot at longer ranges, if you know what you are doing.
So:
Vortex Viper PST 1-4x24 Riflescope with TMCQ MOA PST-14ST-A:--> Check Price
Vortex Optics Strike Eagle 1-6 x 24 AR-BDC Reticle: Check Price
Recommendations
While both scopes are excellent choices, we have some basic recommendations for when we would use either scope. All 2 product is the best AR-15 scope, you should choose one.
The Viper PST would be much better for close range uses. By that, we mean potential tactical and home defense shooting. However, as you increase in range, the Strike Eagle becomes a better choice.
While both scopes have ranging reticles, we found that the BDC reticle of the Strike Eagle was easier to use. Pair this with the greater magnification range and wider field of view, we found the Strike Eagle to be much easier to use at long range.
If you are doing any type of hunting, both scopes are very high quality and durable, so either one would work well. It really comes down to what range you are expecting to shoot at.