16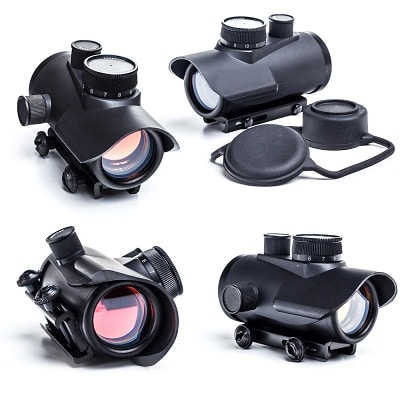 The Difference Between Reflex Sight vs Red Dot? The Truth You Should Know
Ever wondered whether a red dot sight vs a reflex sight will be better for your rifle?
For starters, most people are confused about the difference between a red dot sight and a reflex sight. But what is the truth?
"Red dot sight" IS NOT a specific type of sight.
It is actually a general term that is used to describe any kind of weapon optic that uses a red dot as an aiming point. In place of red dots, some sights have green dots or similar electronic images, such as a crosshair, as an aiming point.
There are three different types of "red dot sights":
Prism sights

Reflex sights

Holographic sights
Each of which is slightly different. As you can see, a reflex sight is actually a type of red dot sight. The two are somewhat interchangeable. When the average person thinks of a "red dot sight" they are commonly thinking of an exposed reflex sight, which we will talk about later.
In this article, we will go over some key similarities and differences between the different styles of sights.
By the end of this article, you will have a better understanding of various weapons sights. So now, we're going to find each type of red dot sight. Related that, if you are planning buy a red dot, read my article about best red dot sights for AR 15, you will find the good one for your AR
1. Prism Sights
What is A prism sight?
A prism sight is a short, tube-style optic.
While traditional rifle optics use a series of lenses, prism sights use a prism to focus the image you see down the scope.
As a result, a prism scope is much smaller than the traditional rifle scope.
The pros of a prism scope are that they are commonly available with a small magnification and they allow for either etched or illuminated reticles.
The biggest downfall is the smaller eye relief, which means that your eye has to be closer to the optic to pick up a proper sight picture.
Prism scopes are somewhat more expensive than reflex sights, but the prices have been on the decline.
Prism sights are ideal for the average target shooter or distance shooter. When using a prism sight, it is harder to reacquire the target due to the eye relief. For someone who is trying to shoot targets at extended distance, the magnification and precision of a prism sight will be perfect.
2. Reflex Sights
What is the Reflex Sights?
Reflex sights use a lens that functions somewhat like a mirror.
The aiming point is projected forward onto a lens, which reflects it back and allows you to see the red dot.
This type of reflex sight, commonly referred to as an exposed reflex sight, has a very distinct look.
There is no tube-shaped sight, only a small, clear window that the user can see the aiming point on.
However, there is a second type of reflex sight, which is tube shaped.
Tube type is the type of reflex sight will have TWO different lenses, and the aiming point is projected forward from the rear lens to the forward one.
The beam of the light is contained within the tube. Additionally, this type of reflex sight could use tritium in place of a battery powered light beam.
The biggest advantage of a reflex sight is the lack of an eye relief.
This means that your head can be positioned anywhere, you can keep both eyes open while using the weapon, and it is extremely easy to reacquire targets.
Reflex sights are also generally somewhat cheaper than prism sights. Another pro of a reflex sight is the fact that some are available for battery-free use. The one downfall of the reflex sight is that they aren't magnified, however, some reflex sights are sold with a paired scope that doesn't have an aiming point.
Reflex sights are an excellent option for many different weapons uses. They are excellent for home defense or tactical uses, some hunting, and for any type of general shooting. For the average rifle user, a reflex sight is what I would recommend.
3. Holographic Sights
So what is Holographic Sights?
Holographic sights are not as common as reflex sights or prism sights.
A holographic sight essentially uses a picture of a reticle that is in between glass layers.
EOTech has the patent for holographic sights, so they are the only type you will see. They have a rectangular field of view and a very small reticle for aiming, which allows for more accurate shooting.
The pros of an EOTech sight are that they are extremely precise and accurate, and they are easy to use.
Similar to the reflex sights, they allow for you to shoot the weapon with both eyes open and easily reacquire targets.
The only con of EOTech sights is the price. While they aren't much different than the basic exposed reflex sight, EOTech sights are much more expensive.
An EOTech sight costs roughly 10 times what a cheap exposed reflex sight will cost. While they are certainly better quality, my opinion is that the difference between the two isn't enough to justify spending that much more money.
However, I would recommend EOTech sights for anyone needing extremely accurate shooting abilities, such as a competitive shooter.
There's a reason that they are so popular with the United States military. EOTech sights are very precise, and will allow for more accurate shooting over distance.
Conclusion
Overall, reflex sights are often what people consider to be a "red dot sight," despite the fact that there are THREE different styles of red dot sights.
Most people don't know, but "red dot sight" is more of a general term than a specific kind of sight.
Reflex sights are the most common and the least expensive, but are somewhat limited. Dependent on your needs, a simple reflex sight will probably meet your needs. Prism sights are often magnified, so they are better at longer distances, but they have an eye relief. Holographic sights are similar to exposed reflex sights, but are much higher quality at a much higher cost. Exposed reflex sights can have an additional scope added, to allow for magnification.
All in all, given today's technology, there is a reflex sight available that will meet your shooting needs, at a more affordable cost.