1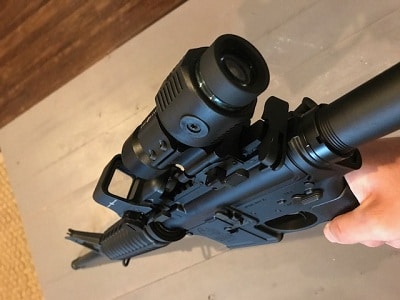 Is The Sightmark Ultra Shot Pro Spec Sight NV QD Really Good?
Sightmark is well known for their affordably priced weapon's optics.
Initially, this made me uncomfortable, as I knew they weren't as high quality as some other available optics.
After plenty of research and testing my friends' optics, I eventually went with Sightmark's Ultra Shot QD paired with a Sightmark 3x Magnifier. You can see that sightmark on my AR15 below:
For me, I knew exactly what I needed in a weapon's optic, and knew exactly what to expect from the Ultra Shot QD.
Overall, I have not regretted this purchase whatsoever.
It has served the purpose that I bought it for, but I also realize that this sight is not for everyone. As I said previously, there are higher quality optics available, but for the average shooter, the Sightmark Ultra Shot QD will work.
Comparisons
My reasons for selecting the Ultra Shot QD were the affordability and the ease of use.
My thought process is that a reflex style red dot sight is nothing more than a piece of glass with a laser dot in it. If the sight can be accurately zeroed, and will hold that zero, it works.
For my purposes, I will NOT be beating up my sight, using it in foul weather, or needing overly accurate shots at 300+ meters.
Higher quality sights will be waterproof, have smaller reticles to allow for more accurate shots, and will generally be more durable.
The Ultra Shot QD does not have all of these features. However, for the average shooter, it is more than acceptable.
I use it for range shooting and some hunting with no issues. I have shot far more accurate sights, but I am still able to shoot out to 300 meters accurately using the Ultra Shot QD.
Feature of Sightmark Ultra Shot Pro Spec Sight NV QD
The Ultra Shot QD offers four different reticle options and multiple brightness settings.
Some of the best features are how easy it is to install, zero, and use.
The easy clip on the side of the sight allows for it to easily be attached and unattached from the railings on an average AR or other tactical style weapon. The same clip also makes it easy to tighten to fit any railing system.
Compared to some sights, this is a huge positive. However, it will not be affixed to the rail quite as tight as more expensive sights are.
Some will argue that over time, this will affect the accuracy of the sight.
My response to that, is that a knowledgeable shooter should be confirming their zero frequently anyway, so it should be extremely easy to catch and fix this issue.
However, in months of shooting this weapon, I have not had this issue. I have confirmed my zero multiple times, and never had an issue.
Zeroing the sight is a breeze. It requires an Allen wrench, but is an extremely easy sight to zero.
The sight is also extremely easy to use. For the new and experienced shooter alike, it could not be easier. Simply turn the sight on, adjust your brightness, and shoot downrange with both eyes open. It is extremely easy to acquire targets and shoot accurately.
What about Sightmark 3x Tactical Magnifier
I bought this sight in a combo pack that came with a Sightmark 3x Magnifier.
The magnifier is a separate entity (see photos below), and the user is able to slide the magnifier over if they don't wish to use it. While this magnifier does take some getting used to, it is equally easy to use.
You will have to get used to where you are placing your head for each shot when you are using the magnifier.
However, once you have it figured out, it is a great addition to the reflex sight.
The fact that you can also slide the magnifier off to the side if you are shooting at a closer range is another awesome feature.
Similar to the reflex sight, there are much higher quality magnifiers out there, but for the average shooter, there is absolutely nothing wrong with this.
Conclution
For the competitive shooter, serious hunter, and optics snobs, I would avoid this sight.
For the new shooter, basic hunter, and especially the casual plinker, this sight is perfect for you.
If you are just looking for an easy to use sight to go out and shoot targets with every once in a while, this is the sight for you. It is affordably priced, easy to use, and reliable. I have had no issues with my sight, but I also knew exactly what to expect and what I wanted it for before I got it.
Overall, this was a great purchase for me.
About the Author: This post from Robert Sagona who is an Army Officer in Columbus, US. He has 2 rifle, and 2 shotgun. So amazing. He bought that product in 2016 and completely satisfied with it. So he write some review about this product and take some photo of his gun. Read my review about best gun safe for the money to pick for yourself the best,