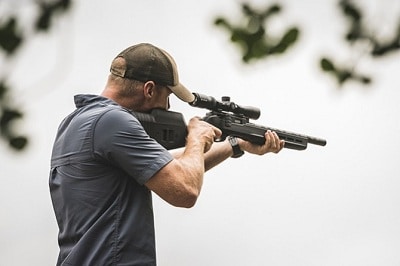 What is the Most Versatile and Best Ammo for a Ruger 10/22
Part of the joy of buying a new rifle is figuring out which ammo is the best for that specific gun.
There are so many types to choose from that sampling everything at the range just isn't doable.
Today we're going to look at the best ammo for a Ruger 10/22 based on a few different situations.
Versatility is key with the Ruger, and a big reason for its popularity. Bulk ammo generally does well, and we've identified the best bulk option here.
More specifics may be rejected, but it really depends on what type of barrel you are using.
Let's take a look:
A few notes on the Ruger 10/22
Try to avoid a BX magazine.
If there is one mag that severely effects which ammo your gun will like, this is it.
CCI is known for not working well with BX, and many have a tough time shooting anything other than general bulk ammo.
Use a 10-round factory magazine. Versatility and dependability are much higher than with a BX or other options.
Get small box of many different types of bullet
We recommend buying a small box of many different types of bullets and enjoying shooting them.
See what sticks and what doesn't, and what makes you feel the most comfortable. You'll probably be able to eliminate some of the options after only a few shots fired.
Once you've got the group down to three or four, run through specific scenarios and try each ammo with them.
Accuracy, different distances, moving targets, etc. all may deliver different results with different ammo. The best ammo for a Ruger 10/22 is available in bulk, so keep that in mind.
Best Ruger 10/22 ammo for general high-volume shooting: Remington bulk ammo
Part of what makes ammo work well with specific guns is how smooth it flows through the chamber.
Remington bulk is easy to load and shoot with a Ruger, and doesn't slow down the process at all.
As far as accuracy, Remington bulk ranks at the top for 25 and 50 yard shots. It is good enough that nailing a specific area on the target is doable from 25 yards and beyond.
Many have found that Remington bulk is the best ammo for a Ruger 10/22 because it's easy to order in bulk, fits the specifications of the Ruger, and is generic enough that modifications aren't going to screw everything up.
NOTE: Best scope for ruger 10/22 is good choice for your ruger, it will help you improve your result
Best Ruger 10/22 ammo for tougher shooting situations: CCI Stinger
Many barrels are not going to eat Stingers the way they eat general bulk ammo.
But CCI Stingers are great for accuracy in adverse conditions. For shots from a range longer than 25 or 50 yards, wind and other weather factors, and moving targets, Stingers really up the shooting game of the average hunter.
CCI lead 40-gram standard are great ammo for the Ruger 10/22.
At 50 yards, the ammo is a lock with ten shots on a dime.
One thing to watch out for is whether they will cycle well with this gun – if you've got a custom barrel or add-ons, this may cause problems.
Other than that, CCI has a lock on the technical shooting aspects of the Ruger 10/22.
Here's a video of ammo being tested by the Ruger 10/22:
Conclusion
Variety is one of the many benefits of owning a Ruger 10/22.
Most will eat just about any type of ammo, and it will be blatantly apparent if there's something it doesn't like.
Keep a bulk ammo on hand at all times, as well as some CCI for more specific situations. When there are choices, the odds of a successful shooting session are much higher.
If you found this article helpful, please share on social media.
Conversation is key in the hunting community, so if you have a specific ammo you love for the Ruger 10/22, share it below in the comments so we can all try it out!