1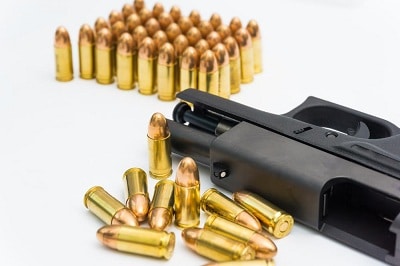 Can I Buy Ammo Online and Where to Buy It?
In the modern age, almost all shopping is done online. Even grocery shopping can be done completely online now. So, with these technological innovations and changes, how does the firearms community change with it?
Wondering if you are able to buy ammunition online? Let's take a look at some of the laws to keep in mind.
Short Answer
The short answer is yes, you can buy ammunition online. However, as with almost anything in the firearms industry, there are some stipulations.
It Depends on Your State Laws
In some areas, ammunition can't be shipped in. A few examples are New York City and Washington D.C.
In other areas, you can't get it shipped to your house. Similar to purchasing a firearm, ammunition can only be shipped to a federal firearms license holder in these areas. Some of these are Massachusetts, New York, Chicago, and most of California.
Lastly, in Illinois and Connecticut, you have to have paperwork on file in order to be eligible to buy ammunition online. Some of this paperwork could be permits or IDs.
The biggest takeaway is to make sure you know the laws in your area. Generally speaking, you can find them with a quick Internet search. However, there are also some websites that have compiled multiple states' laws into one location. One example is this page on Able's Shooting.
However, keep in mind that laws can change. Always double check your own state laws before relying solely on that website or others like it.
Other Restrictions
There are a few other considerations that apply when buying ammunition online. For example, most websites have to charge extra for shipping due to the fact that they are shipping a hazardous material. Federal hazard classification is required, so it costs more money.
It is also common that weapons and ammunition must be purchased separately online.
Many different websites will not ship to Alaska and Hawaii, so be sure to keep that in mind if you are in those areas.
Should I Buy Ammo Online or In Person?
There are a couple differences between buying ammo online and buying it at the store. The primary ones will be the price and the fact that you can't actually see the ammunition
While it is not set in stone, there is a good chance you can get a better price online. However, keep in mind that you will have to pay for shipping. Also, some stores will do price matching, so you may be able to get the price in the store down.
For some people, not being able to physically see the ammunition may be a little difficult. Especially if you are newer to firearms, physically seeing the ammunition may make you a little more comfortable that you are getting exactly what you need.
When buying online, there won't be a store representative there to answer your questions. However, many websites will have frequently asked question pages or online representatives to assist you.
When you buy ammo online, you will not be able to return it. Similarly, nearly every store will not accept returns on ammunition for safety reasons, so there's not much difference there.
Where Can I Buy Ammunition Online?
There are hundreds of different places online that you can buy ammunition. Brownells, Lucky Gunner, and Cheaper Than Dirt are always popular options, but there are more than a few.
Brownells has the largest supply of many different types of weapons and ammunition, but they can sometimes be beat in price by Cheaper Than Dirt. With these two websites, you really can't go wrong.
For reloading, I have found that Brownells has a wider variety of products. MidwayUSA also has a great selection of reloading supplies.
Cabela's and Bass Pro Shops also sell ammunition, but they usually sell at the exact same price as in the store, so there wouldn't be much incentive to buying online, unless you live in an area where you can't easily get to an outdoors store.