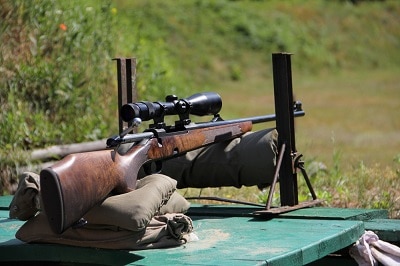 How to Choose the First Rifle for Beginner (For Your Purpose)
Just getting into weapons? Looking for your first rifle? Trust us, we understand the feeling! Everyone has to start somewhere.
This guide will provide a few key factors to keep in mind, which will hopefully help in your decision making.
Let's get started!
The Basics of Choosing a Rifle for Beginner Shooting
Before getting into anything, we are going to assume that you have a general understanding of firearms safety, and are familiar with the process of purchasing a firearm.
There are a few basic terminologies to understand before getting any further.
Action. Action refers to the way in which the rifle ejects the empty shell after firing, chambers the next round, and fires that next round. A few examples are: semiautomatic, fully automatic, bolt action, lever action, and pump action.
Semiautomatic weapons use gas blowback. In a semiautomatic weapon, each trigger pull fires one round
Fully automatic weapons won't be covered much. They require even further background checks and paperwork
Bolt action rifles require the user to manually move the bolt back to eject the shell and chamber the next round. Generally speaking, they have some type of handle that the user grabs onto to move the bolt back and then ride it forward. When you think of a sniper in the movies, those are probably bolt action
Lever action rifles are an older technology. They are used commonly for hunting, as they offer the ability to fire a larger projectile out of a smaller framed weapon. It is similar to a bolt action rifle, but instead of a handle on the bolt, it is a lever underneath the trigger guard
Pump action rifles are extremely uncommon. Rather than a lever, they use a pump, similar to a shotgun
Magazine. The magazine is a device that holds ammo. It is usually spring loaded to assist in feeding the next round into the chamber. The magazine capacity is how many rounds the magazine can hold.
Caliber. Caliber refers to the size of the bullet that the weapon fires.
What Are You Going to Use the Rifle For?
This has to be the first question that crosses your mind when you start shopping for a rifle. What are you going to use it for?
Generally speaking, a hunting rifle is going to be much different than a plinking rifle. Identifying your use for the rifle will help to pick which factors are important to you.
Hunting
Hunting rifles need to be
durable, reliable, and reasonably accurate

.
Durability and reliability are extremely important. As you are hunting, there is a chance it will be exposed to the elements.
Identifying what you are going to be hunting for will help to pick the caliber. Do your research, there is plenty of information out there on the best caliber for different animals.
When looking for ammunition, there is a plethora of hunting-specific ammunition. There are some great options, and you really can't go wrong with Federal Power-Shok, Remington Core-Lokt, or Winchester Deer Season, although these are just a few recommendations.
Generally speaking, jacketed hollow point ammunition will expand on impact and cause a lot of damage, which helps to bring down the target. However, when using a larger bullet, such as .308, this becomes less important.
As far as action is concerned, hunting rifles are commonly bolt action and lever action, as they are more reliable. However, semiautomatic rifles are becoming more and more popular.
For some types of hunting, such as hog and coyote hunting, semiautomatic may even be preferred. Pick the best AR-15 scope for deer hunting will be good for you.
Precision/Accuracy Shooting
Precision rifles need to be extremely accurate, obviously.
These competition grade weapons are usually pretty expensive, and are commonly bolt action as well, as they are slightly more accurate than their counterparts. However, more and more precision rifles are semiautomatic.
As far as caliber is concerned, it really depends on your range.
If you are planning to do some accuracy shooting at longer distances, 6.5 Creedmoor, .300 Win Mag, and .338 Lapua are all excellent choices. For closer ranges (think 400 yards and closer), 5.56x45mm NATO (used in AR-15s) is popular because of the number of aftermarket parts and accessories available.
When it comes to ammunition choices, there are plenty of options available specifically for accurate shooting. Lapua ammunition is notoriously accurate, as are Hornady Superformance and Federal MatchKing.
Defense
Home defense rifles need to be reliable.
When you pull that trigger, you need to be sure that you are going to be firing at the threat, whatever that may be.
Semiautomatic is generally preferential, as you would be able to shoot faster at a potential threat.
As far as calibers are concerned, 5.56x45mm NATO is a popular choice (AR-15), but some prefer larger calibers, such as .308 Winchester.
The caliber is slightly less important than the ammunition chosen. High quality defense ammo, such as jacketed hollow point ammunition, is very important, as it will do the most damage on impact.
As wrong as it sounds, if the ammunition is good for bringing down large game, it will also be good for bringing down a potential intruder. You should keep rifle in best gun safe for the money to make it work stability.
Plinking
Plinking rifles generally just need to be inexpensive and reliable.
They don't need to be too fancy or durable, as it is a just for fun gun. While not always true, the caliber is usually not that big of a deal for a rifle that is only for fun.
However, some people very strongly about having fancy, semiautomatic, large caliber weapons for plinking. My personal view is that I just need something basic, as I'm only practicing my skills for when I bring out my "real" guns – my competition shooting weapons and hunting rifles.
I practice with a bolt action .22LR that cost less than $300.
Recommendations
If you are looking for a home defense weapon, I really don't think you can go wrong with an AR-15 or AR-10. With the number of aftermarket parts and accessories, you will be able to accomplish almost any type of shooting with this weapon.
For plinking, I recommend something simple, like I mentioned before. However, if you are just getting into weapons, I would recommend an AR-15. This is an easy recommendation to make, due to how ridiculously popular the weapon has become. They perform well and will let you meet many needs.
For precision shooting, I would look into anything made by Weatherby, Tikka precision rifles, and Howa precision rifles.
For hunting, it really just depends. However, the Ruger American is a basic bolt action weapon that is durable, reliable, inexpensive, and is available in just about every caliber imaginable. There are better options, but for the price, this is a great weapon.
There are hundreds of different factors to consider when buying your first rifle. This guide has hopefully given you a general concept of what to consider.