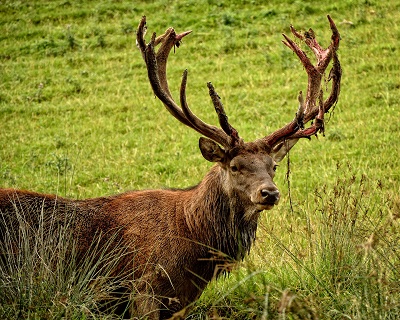 Top 12 Best Place For Deer Hunting
The arrival of fall means whitetail deer hunting season in North America. As hunting deer has increased in popularity, to increase odds of bagging a prize deer many hunters have increased their hunting preparation and begun looking for better places to hunt.
Research should be done on the deer population of the areas being considered for the hunt.
Being willing to spend more weekends in the bush and longer periods of time in the stand will greatly increase your overall odds of getting that prize deer to take home, but it is also important to have good equipment and work on marksmanship. Once you have these things down, it is time to determine the best hunting location. More and more hunters are travelling to different areas to hunt each year.
Each state or province has different fees to pull a deer tag. More popular places like Iowa have high fees, while Kentucky and other southern states, as well as places that don't see much tourism related to deer hunting, may have fees under $100. Exact prices and info on applying can be found in a simple internet search. Here are the best places for whitetail hunting in North America.
1. Iowa (US)
Iowa is legendary among whitetail hunters, ranking as the top state for hunting from 1830 until 2001. In order to draw a tag, hunters must have an accumulation of preference points. Do some research, and Iowa could prove to be the best place to hunt deer.
2. Saskatchewan (Canada)
American citizens can hunt in the forest country of Saskatchewan, but for the most part not in the southern farmlands. However, Saskatchewan is large and has an ample deer population with record-setting numbers of B&C bucks. Overall, this is one of the best places to hunt deer in North America.
3. Texas (US)
The old saying goes- 'Everything is bigger in Texas.' In the hunting world, this is applied as 'more land means more deer.'
Texas has seen over 600,000 deer bagged annually in recent years, and the sheer volume of open land in the state makes it a fertile ground for repopulation and hunting.
4. Alberta (Canada)
The eastern and southern farmlands of Alberta are long-time favorite areas for local deer hunters. Like Texas, Alberta has a large amount of open space and Canada is typically a hunter-friendly environment. In Canada, not all hunting lands are accessible to American citizens- do research on where you want to go and how easy it is to pull a deer tag in that area.
5. Colorado (US)
The Rocky Mountain state has mule and whitetail deer galore and a strong infrastructure for hunting. Drawing deer tags in Colorado is relatively easy with proper planning, and the large plains on the eastern part of the state are prime for whitetail. Southern Colorado has many good hunting hot spots- get a gazetteer or hunter's guide to the state and poke around at the maps.
6. Maine (US)
 Maine is on the list because of its cheap deer tag license fee for out of state hunters. It is off the beaten path and therefore has less competition than western states while offering easier access to those on the eastern side of the country.
7. Montana (US)
Recent disease outbreaks decimated the deer population but it is on the rebound. Stick to the three forks areas and the southern part of the state at this point, where the populations are strong and healthy. Luckily, there is plenty of land in Montana.
8. Ontario (Canada)
The benefit of Canada is a large amount of land compared to the human population. This is clearly seen in Ontario, where the deer population booms annually and north of the human population that sits by the border, there are places like Eagle Lake where getting out and spending time in the stand is easy.
9. Mississippi (US)
Mississippi is loose with its bagging permits and has a large deer population. While record class bucks are hard to find, smaller deer are ample and the prize deer are there for the best (or luckiest) of hunters.
10. Minnesota (US)
This state is popular for hunting because of the high number of record book bucks in relation to the overall deer population. The vast amount of lakes and the areas surrounding them see a lot of wildlife, but the lakes popular with Minnesotans obviously aren't hunt-able. Find areas less trafficked and bagging a prize deer is more than doable.
11. North-East Wyoming (US)
We honed in on the north-east corner of the state because that is where most of the deer are. The deer are of prime wall hanging material, despite the fact that much of the land is private and the overall deer population is lower than in many top deer hunting states.
12. Kentucky (US)
Kentucky has produced more than 200 B&C Bucks in the past five years, which has increased the number of hunters. However, the deer population is strong and the state has a large amount of land available for hunting. Non-resident licenses are in excess of $250, so apply early for the best chance.
You are hunting deer right? let's read How To Attract Deer To Your Yard in this link.