1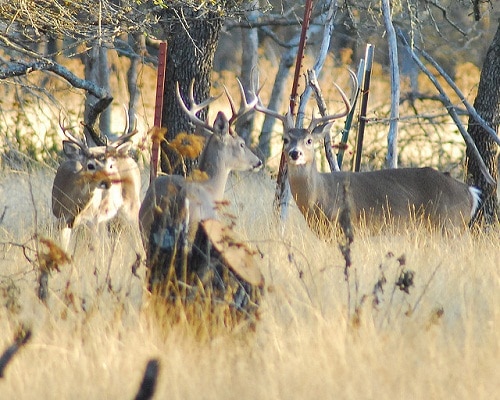 How to Attract Deer to Your Yard
Some of us are fortunate enough to live the dream, with a nice open piece of property behind our home. Perfect for fishing, backyard camping, and of course, observing nature. For the latter, you'll need to know how to attract deer to your yard.
I live in a house that backs up to a vast landscape of hunt-able land.  Over my twenty years here, I've mastered several techniques that draw deer in and keep them around. The best part is that once a few deer come in, more always follow.
5 Tips to Attract Deer
Let's take a look at my 5 techniques.
1. Increase the amount of shrubbery in your yard
This is key, as deer are constantly grazing. The more natural in appearance the plant life, the more deer will be attracted to it. Having shrubbery native to your area is equally as effective. For how to attract deer to your yard regularly, follow these tips:
Tall shrubs work the best in attracting deer to your yard. Taller plants can spread their seed further, which encourages additional growth as well as brings in wildlife that pick up on the smell.
The more unkempt the shrubbery, the more natural it will appear to the deer. This will pique their interest more than perfectly planted lines of bushes and plants.
This video shows a particularly effective deer attractant
2. Keep a calm and serene environment
Deer are skittish animals. They spook easily, and certainly won't hesitate to bolt if they feel at all threatened. To attract deer to your yard, you'll want to keep a quiet, peaceful environment. Minimize noise escaping from the home.
Along the same line, don't have loud birdfeeders or clanging wind chimes hung from the porch. Deer feel comfortable solely in natural settings free from outside distractions.
Reducing the 'barrier to entry' helps as well. Deer aren't going to hop over a tall fence that they can't see through. Do everything you can to meld your yard in with the natural settings beyond your property.
They also aren't going to approach bright light, so turn off your porch lights when not in use and don't have unnecessarily bring or shiny objects sitting around. We've all seen how deer act when they are caught in headlights. The initial freezing, followed by a quick escape as soon as they feel threatened.
3. Have water available for the deer
If you've got a small pond in your yard like I do, then you're in luck here. Mine is a natural water source, I don't even have to feed water into it. The deer love it because it is exactly what they are used to.
If you haven't got a pond, consider adding a water fixture of some type. Even if it isn't natural (such as a bath or fresh water pool), you will still find that it attracts deer.  Avoid chlorinated pools, or anything with a bunch of chemicals in it. The point is to offer the deer a place to refresh and have a drink, and they can smell that chlorine a mile away.
If you live in an area with a strong winter, keep logs of wood in the water to prevent it from freezing.
Replenish the supply consistently so the deer come to trust the water source.
4. Have a large salt lick or other food source
To get deer into your yard, having a large salt lick for them to taste is a great idea. They smell it, which brings them in from afar. Once they've tasted it, they will continue coming back for it and may even hang around for a bit. This is particularly true if you have a water feature for them to enjoy – we all know how salt makes us thirsty.
I don't recommend putting the salt lick on your porch. Deer will be more hesitant to approach if it's that close to the house. They'll like it more if it's out in the yard, maybe on a fence. Or, better yet, right next to the water source.
If you can't get ahold of a salt lick, a mineral block or other block high in sodium will suffice.
Keep it away from areas of heavy movement. No dogs, children, or other ornery activity should happen near the salt lick.
Corn feeders also work great. I have both a salt lick and a few corn feeders in my back yard. This gives the deer an easy source of food, which gives them (and their pack) ample reason to return again and again.
Deer love oak trees. Dotting your property with oaks will attract large numbers of deer. They feed on the twigs and leaves, as well as the acorns found on the tree.
5. Install grasses that deer love
There are a handful of grass types that deer love to graze. A good thing about grasses is that it will attract them from quite a distance and, if you have enough of it, keep them coming back despite the other techniques listed here. If you live in an area where it is possible to use one of these, then go for it:
Bluegrass
Wheat
Fescue
Minimize the amount of pesticides and chemicals in the grass, so as not to turn the deer away.
Ferns will also attract deer to your yard. Keep these ferns in shady spots, and do everything you can to help them thrive. The better the ferns, the higher the odds the deer will be attracted to them.
Now you have a basic understanding of how to attract deer to your yard. Hopefully, you live in an area surrounded by wildlife already – your chances of attracting deer are very high if you follow these steps. If you have any tips or techniques that you'd like to share, please leave them in the comments here so we can get a discussion going. If you found this article helpful, feel free to share on social media. Keeping deer around the yard is relaxing and surprisingly not that hard to do, it just takes some persistence!
Featured Image by glasgows