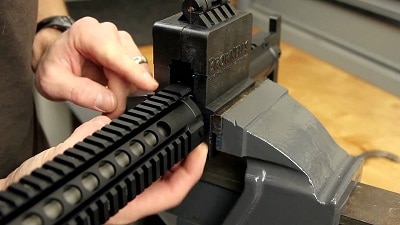 What is a Free Float Handguard? Who Should Use It?
If you are upgrading or building an AR-platform weapon, I'm sure you've run into the term free float handguard. What is a free float handguard? If you're relatively new to firearms, it may be a little difficult to decipher what that actually means.
So, what is a free float handguard? What is a drop-in handguard? Which one should you use? In this article, we will go over some of the basics about handguards, and make some general recommendations about when each type is better.
What is Handguards
The handguard of an AR-platform weapon is the part that surrounds the barrel. It is what you hold onto if you're shooting correctly.
Related: you are using AR-15? Let's find the best scope for an AR-15, it will help you have better result in shooting.
Having a handguard at all is necessary because the barrel heats up significantly, but choosing between a free float and a drop-in can be a little difficult.
Drop-In Handguard
We will start with the easier one. A drop-in handguard is essentially just a two-piece guard that is held in place by what is called the delta ring of the weapon.
The delta ring is spring-loaded, so it will hold the handguard in place. To change it, all you have to do is take the tension off the delta ring, and remove the old handguard.
Drop-in handguards are extremely easy to install. They are also relatively inexpensive, because it is a very simple system. These are often polymer, but there are also plenty of drop-in handguards that have a rail system to them.
What is Free Float Handguard
A free float handguard is mounted directly to the upper receiver of the rifle. It doesn't even touch the barrel at all, and there is no delta ring on the weapon. The term "free float" comes from the fact that the handguard doesn't touch the barrel.
Free float handguards offer much more in the way of customization. You can get multiple different rail systems, such as KeyMod or M-Lok, and you can get a handguard that is the full length of the barrel. However, most of these options come at a much greater cost. They are also more difficult to install.
Recommendations
If you are looking for an extremely sleek, tactical-style weapon, you are probably envisioning a free-floating handguard. Due to the wide variety of options available, you are able to customize the weapon to meet your exact look.
If you are doing any type of shooting that requires extreme accuracy, a free-floating handguard will be better for you.
When you use a drop-in handguard, it has a little wiggle to it, since it is only held in place by the delta ring. A free-floating handguard won't move when you are shooting. The fact that it doesn't touch the barrel also improves the accuracy.
If you're looking to attach a bunch of accessories, the free-floating handguard can offer more real estate for you. However, you can get drop-in handguards that have four-sided rail systems, and will work just fine for attaching accessories.
If you are just a casual shooter, a drop-in handguard will work just fine. They are easy to install and use, so there is nothing to worry about.
If you are just looking for a simple home defense or survival rifle, a drop-in will also be fine for you.
Conclusion
As you can see, there are actually a few significant differences between the two types of handguards. While both will work great for you, there are certain circumstances that warrant the use of one type over the other.