3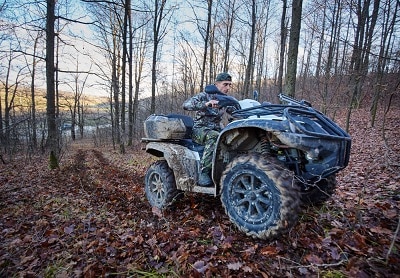 Top 5 Off-Road Hunting Vehicles You Need to Know
When hunting, it doesn't matter how good of guns you have or how skilled you are if you can't get out into the woods or where ever the game is at that you are going after.
That is why it is essential to have a great off-roading hunting vehicle.
There are a handful of different types of vehicles that make good hunting vehicles, so after reading this article you will have a better idea of what those types of vehicles are and also some recommendations in each category.
You will understand the positives and negatives of each one and will be able to determine the best hunting vehicle or best off-roading vehicle for you and your needs.'
ATVs
The first category of off-roading vehicle we will look at are ATVs.
ATV stands for an all-terrain vehicle. This means that they can go pretty much anywhere.
The advantages to an ATV is that they are small and compact compared to there off-roading vehicles. This means that you might not have to park them on the edge of the woods and instead can ride them all the way to where you are going to be posting up and waiting for the game.
ATVs come in a couple of variety of types. You have some ATVs that are designed to carry a group of people as well as gear while other ATVs are only designed to carry one or two people with a smaller amount of gear.
If you go hunting with a group, then you might want to consider a larger one, but if you are a solo hunter or go hunting with different buddies, then a smaller ATV might work best for you. This is especially true if your buddies already have their own ATV.
One downside to an ATV is in some areas they are not road legal. This is because they do not have to have plates and be registered. This can be a good thing because it means you don't have to have a listens to drive one, but depending on the area they might enforce the fact that you aren't supposed to have them on the road.
If you are using it to go a short way in the country, no one would probably care, but if you are going a long way or through a town or city, then it is something to keep in mind when choosing an off-road vehicle for hunting.
Top ATVs
Polaris Ranger Crew 800.
The first top ATV choice we will look at is the Polaris Ranger Crew 800.
This is a larger ATV that can carry multiple people as well as a good amount of gear. This ATV can go at a decent top speed of 45 miles per hour which means you can get places quickly.
It also automatically engages and disengages all-wheel drive, so it is only used when needed. It can hold up to 6 adults and there is a lot of room for them.
The cargo area can hold 1000 pounds and can dump if you need it too
The downside to the Ranger Crew 800 is that on rough trails you can't go top speed and there are only safety nets to keep you in. This means that if it is raining you will get wet, which some people may not like. Outside of that though, this is a very powerful and versatile ATV. You should have best bluetooth obd2 scanner to make sure your car is in good standing.
Arctic Cat Diesel 700 Super Duty
The other ATV option that we recommend is the Arctic Cat Diesel 700 Super Duty. This is a smaller single person to two people ATV. These kinds are also called 4 wheelers by some people. It has a top speed of 40 miles per hour and still can hold a lot of cargo. It also has a strong pulling power of 3000 pounds, so you can pull any game out of the woods.
The flaws with the Arctic Cat Diesel 700 Super Duty is that it has a special battery that can be hard to find and can be costly but doesn't need replaced too often if taken care of. Also, you still get wet riding this ATV, like you do with the other one. The ride is smooth though on this ATV even when someone is riding with you thanks to the great suspension.
Pickup Trucks
Another option for off-roading hunting vehicles is pickup trucks. A pickup is a great hunting vehicle because you can hold all kinds of gear in the bed as well as be able to bring your game home in the bed. A pickup can also hold more people inside of it comfortable, then most ATVs can. One last perk to a pickup is that it is road legal, so you can drive and use it every day.
The downside to trucks is that they are bigger meaning that you probably won't be able to drive them all the way back to your hunting spot. You will have to park them along the road and carry and walk to the area you plan on being hunting. This shouldn't be much of an issue though, but can be to some people. Good off-roading trucks though are a great reliable option for hunting.
Top Pickup Trucks
Dodge Ram Rebel.
The first pickup that we will look at for hunting is the Dodge Ram Rebel. This truck can come with a powerful Hemi V8 engine or a gas/diesel V6. Either one will be powerful enough for most people's needs. The truck sits high and has good ground clearance for off-roading. It even comes with semi-knobby road tires. The cab is large and the ride is smooth with its updated suspension. This truck is also full of technology and you can connect your phone to it.
The downside to the Dodge Ram Rebel is that it can be a little too big sometimes if you are wanting to take it down trails. Trails can get narrow and this is a bigger truck. Also, the towing power can get a little low for some people's needs, but for some people it is fine. This truck is still a great option though and rides well.
Ford F150 Raptor.
The other pickup we will look at for off-roading is the Ford F150 Raptor. This truck is extremely customizable meaning you can make it how you want it and it will meet all your hunting needs. It comes with a powerful V8 engine and this gives it a lot of towing power. It can carry a lot of gear and people and look good doing it. The Raptor has an upgraded chase that makes it great for off-roading.
The downside is that it only comes as an automatic and also only comes with a gas engine. Some people out probably want manual and diesel so that it would last longer. Also, it doesn't have all the top safety features. It is still a powerful and versatile truck though, and it can get you in and out of the woods in style.
SUV
The last option for off-road hunting vehicles is an SUV. SUVs tend to be smaller compared to pickups which means they can get you deeper into the woods, but at the same time they keep you dry inside the cab. Also, they can carry about as much gear and people as a pickup can.
Also SUVs are still road legal. Sport Utility Vehicles were designed for outdoor hunters and adventurers in mine, so there is no reason why you shouldn't consider one for your next hunting vehicle.
Top SUV
Jeep Wrangler
The only SUV we will look at is the Jeep Wrangler. Wranglers can carry a lot of gear and people. They have high ground clearance and a tight wheelbase meaning that they are perfect for taking off-road. They are extremely customizable like the pickups and the top and doors can normally come off, so you can get the fresh air like on an ATV if it is a nice day.
The downside to an SUV though is that the cargo space and passenger space is the same space. They don't have much of a trunk and don't have a bed like a truck. This means if you want to carry gear, then you have to sacrifice on people and vise versa. Also, any game you kill is in the vehicle with you.
The towing ability can also be a little low sometimes for big game because SUVs don't have as large of engines as a truck. They are still great off-road vehicles though and can get you where you need, if they meet your other needs.
Conclusion
So now you know the different types of off-road hunting vehicles and the best off-road hunting vehicles in each type. If you have a lot of gear and hunt big game, then a pick up is probably your best option.
If you don't have so much gear, but still want to have a street-legal vehicle, then an SUV is probably right for you and if you just want to get around fast and don't have far to go, then an ATV might be your best option. Now though you have a great starting point of finding the best hunting vehicle for your needs.