1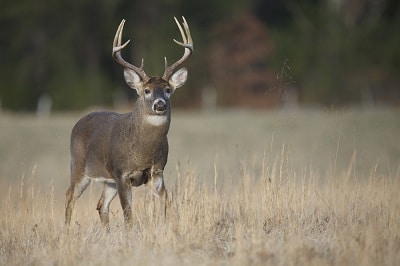 Should I Go Deer Hunting With an AR-15?
The AR-15 is the rifle of the modern day. It is an extremely popular sporting rifle for quite a few reasons. But you may be wondering, "Should I go deer hunting with an AR-15?"
For starters, it is easy to operate and maintain. They are relatively inexpensive, and there are literally thousands of aftermarket parts available.
Due to all this popularity, it is becoming more and more popular as a hunting weapon.
Many people are using AR-15s for coyote hunting, hog hunting, and other varmint hunting. More and more people are starting to use AR-15s for deer hunting.
Are you wondering whether or not you should deer hunt with an AR-15? Let's take a look at some of the facts.
Caliber of AR-15
Assuming we are talking about a true AR-15, they shoot 5.56 or .223.
However, AR-frame weapons are available in many calibers, both larger and smaller.
For deer hunting, 5.56 is a little on the small side.
So obviously, a larger caliber AR-frame weapon would be a slightly better choice for deer hunting.
ARs are available in 6.5 Creedmoor, .50 Beowulf, .458 SOCOM, and .300 Blackout, to name a few. These larger calibers would generally be better than 5.56 for deer hunting.
Given how easy it is to customize an AR-15, it would be pretty easy to buy a new upper in a different caliber, and slap it on any AR-15 lower receiver.
However, the point of this article was about using a true AR-15 for deer hunting, so we will focus on 5.56.
Ammunition
Using modern ammunition, 5.56/.223 can be a viable hunting cartridge. Most old-timers will be really reluctant to say that. Based on ammunition of old, most people wouldn't go smaller than .243, which was still considered small.
However, with modern bonded ammo, available in both 5.56 and .223, these rounds are deadly enough for smaller deer.
A few examples are Federal Fusion in .223, Winchester Power Max in .223, Reaper ammo in 5.56, and Nosler Defense ammo in .223.
All of these are heavier, bonded bullets. For those that are unfamiliar, bonded bullets work by keeping the bullet together. Bonding the projectile together prevents it from separating. As a result, the bullet gets deeper penetration, which translates into damaging more tissue.
Weapon
If you are deer hunting with an AR-15, there are a few key aftermarket parts you should have.
If you are building an AR, or have multiple uppers for your weapon, a longer barrel would be preferential for hunting. The longer barrel can help to increase range and accuracy.
A quality scope is extremely important, as with most types of hunting. You are going to want a durable scope that is preferably waterproof and shockproof, to withstand the damage that can come along with hunting. Best ar15 scope for deer hunting is great way to know which is the best
Other than that, the standard AR-15 parts will suffice. The standard trigger, collapsible stock, and handguards will likely serve you fine. However, you may wish to change things over time.
Other Considerations
Some states have magazine capacity limitations for hunting rifles. Make sure to look up your local state laws before using a standard 30-round AR-15 magazine.
Additionally, some states have a minimum caliber for game hunting. If your state has this, hunting with an AR-15 may be out of the question, due to the caliber.
Make sure you know your local laws before going hunting!
As I mentioned before, .223/5.56 is an acceptable cartridge for smaller deer. If you live in an area with large deer, such as Wisconsin, Iowa, or Nebraska, you really need a larger caliber weapon. In the more southern states, .223 will work just fine.
Conclusion
So, long story short, yes. You should go deer hunting with your AR-15, as long as it is legal where you live, you are using the correct ammunition, and you aren't hunting large deer.
As a weapon system, the AR-15 performs extremely well. Due to its customizability, ease of use, and popularity, it is an awesome choice for deer hunting, as long as the correct criteria are met.