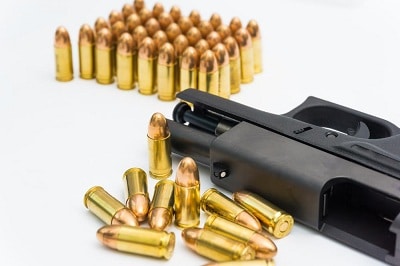 Learn What a Bonded Bullet vs Non-Bonded Bullet is and Which is Best
If you are new to firearms, then you may have come across bonded or non-bonded bullets and wondered what the difference was.
Well, the answer is really pretty simple, but it has to do with how the bullet is made.
To learn the exact differences between a bonded and non-bonded bullet than continue with reading this article and digging deeper into the subject this article will also provide you valuable information on when it is best to use a bonded or non-bonded round.
What's the different between Bonded Bullet and Non-Bonded Bullet?
Bonded Bullet Characteristics
So what is the bonded bullet?
A bonded bullet is when the core of the bullet is bonded to the jacket.
This can be done in a variety of ways including electro processes and electro-chemical means.
The way the manufacturer creates a bonded bullet isn't really the important thing, but the reason why they do it is important.
The main reason for a bonded bullet is it keeps the core and jacket from separating when the bullet penetrates into the target. This is a benefit because it helps the bullet hold most all of its weight into the penetration process.
The reason why the weight is important is the bullet doesn't expand as rapidly and it goes deeper into the target, especially if the target is thicker fleshed or has a lot of layers.
The fact that the bullet stays together means a deeper and cleaner wound.
When it comes to self-defense the cleanness of the wound may not matter as much to you, but when hunting this could mean the difference of pieces of bullet scattered throughout your game or it being one chunk of metal for you to pull out when cleaning.
Bonded bullets also do an excellent job of going through bone, so if shot placement is off a little with hunting than the effect will be less noticeable with a bonded bullet.
There are some disadvantages to bonded bullets however. One is it cost more to manufacture them.
No matter how the company does the bonding process it is still an extra step and this extra cost has to be passed on to the customer buying the rounds.
Also, since there are extra manufacturing steps they may suffer a little in accuracy. This is because even with top quality control the extra steps means that it is harder to get every bullet coming off the line to be identical. You want your bullets to be identical so they will fire the same way and produce the same results. Consistent results and reliability is really important if you are using the rounds for defense. Outside of these factors bonded bullets still have their place, but these are some of the reasons why they still make non-bonded bullets too.
You should buy the best biometric gun safe to storge your weapon
Non-Bonded Bullets
Non-bonded bullets are rounds that the core of the bullet and the jacket are not connected.
What's this mean?
This means that when the round is fired it is very likely that it will separate into multiple pieces. This is defiantly true if the target is thick or has parts that can grab onto the bullet. If you are firing into thick flesh, then it can pull the jacket from the round. Also, a hard surface can cause the bullet to shatter on impact. Another quality of a non-bonded bullet is that it expands more rapidly. This means that the penetration may not be as deep.
These things may seem like bad things, but they actually don't have to be. Since the manufacturing is easier non-bonded rounds cost much less and also since there are fewer steps in making them they fire more consistently. This means that the accuracy is better and with good shot placement a non-bonded bullet is excellent at taking down smaller game where you don't need deeper penetration. The reason less penetration is good is because it damages less of the meat when you are hunting. If you are hunting deer, then if you place your shot behind the front shoulder, then a non-bonded round will bring it down just as easily as a bonded round. Non-bonded rounds however are not good at going through large game.
Which is Best Between Bonded Bullet and Non-Bonded Bullet ?
The answer to which is best between non-bonded and bonded rounds is it depends on the use.
If you are just having target practice, then a non-bonded round would make a lot more sense because it cost less.
Penetration and deformation results don't matter if you are just shooting targets for fun. If you are shooting small game or want more accuracy, then a non-bonded round is probably just fine.
It will save you some money and will bring down the small game you are shooting or keep you safe if it is a round you are using for defense. If you are hunting bigger game such as elk or shooting through thicker things, then that is when you may want to consider bonded rounds.
The ability to keep shape better and more consistently on impact is important if you need deeper penetration. Also, if you are shooting the bone or joint of the animal instead of behind the boney part than a bonded round may be what you need.
Conclusion
To sum everything up though there is no right or wrong between bonded and non-bonded rounds.
To answer the question of what a bonded round is, it is simple just a round that has the jacket and core connected. This keeps it from separating and helps the round hold its weight and shape.
When choosing a round it is important to consider your use, but picking a bonded bullet or non-bonded bullet is just one question you have to answer.
Outside of this question you also need to consider caliber of the round and how many grains are behind it.
These are just two other simple questions to think about when choosing a round along with if it is bonded or not.