3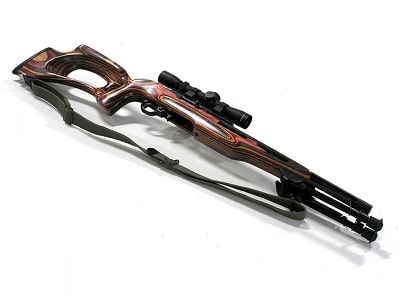 Why You Should Own a Ruger 10/22 Rifle
The Ruger 10/22 is the most popular .22 rifle in America, and for good reason.
It has been around for over five decades and its popularity remains constant. Have you been looking for a .22LR weapon, or considering the Ruger 10/22?
This article will give some of the reasons for its popularity, to show you why it's an excellent weapon for you to own.
Reliability. The semiautomatic functioning of this weapon is extremely reliable. This mechanism hasn't changed much since the weapon's inception, and continues to be extremely reliable and consistent feature
Multiple options. One of the best features of this weapon is the number of different options available. There are classic wood-styled weapons and modernized black synthetic weapons. There are also compact sizes available. The Ruger 10/22 is an excellent weapon to teach a new shooter with. Due to the small rimfire .22LR cartridge, there is minimal recoil, and it is very quiet
Takedown model. This one option deserves its own point. One model of the Ruger 10/22, the Takedown, has a barrel that is detachable. As such, you are able to pack the weapon down into a smaller package. This is an excellent feature for a survival rifle or to take camping
Durability. The weapon is extremely resistant to the elements, due to its outer coating and polymer trigger housing
Affordability. As far as firearms go, this is one of the most affordably priced weapons. There are slightly cheaper .22LR weapons available, but none will be nearly as high quality as the Ruger 10/22. This weapon is an excellent value purchase
Trigger. The trigger of this weapon is extremely smooth and consistent. As mentioned before, it is housed in a polymer trigger housing that is extremely resistant to the elements
Positive safety. The manual cross bolt safety is an excellent feature, especially when using this weapon to teach new shooters
Scope mounts included. The weapon comes from the manufacturer with a scope base adapter and scope mounts included, which makes it extremely easy to install a scope on the weapon. The best scope for ruger 10/22 is good choice for your rifle.
Rotary magazine. The 10 round rotary magazine is extremely smooth and reliable. Since it's a rotary style magazine, it is neatly tucked into the weapon to maintain a sleek look. It is equally easy to release the magazine
Conclusion
There is so much to love about the Ruger 10/22, but these are just a few of the highlights.
It's an extremely smooth and consistent weapon that is very easy to use. The durability will make you feel comfortable with your purchase.
As long as it is treated properly, there is no reason that you won't be able to pass this weapon along to your children one day.
All of these features come at an affordable price, to sweeten the deal.
All in all, the Ruger 10/22 is likely the best .22LR weapon on the market, and there are plenty of reasons to own it.