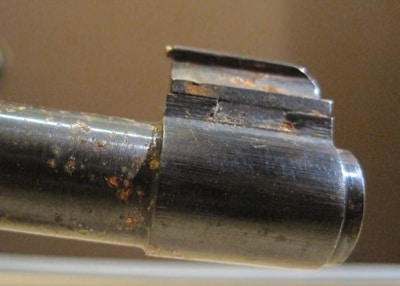 What is Rust on a Gun and How to Remove Rust from a Firearm
Most modern firearms are treated with some type of exterior coating above the metal to reduce the chance of the metal underneath rusting.
However, this is not to say that it is impossible for a modern firearm to rust. Rusting is most common in older firearms. Looking to fix up one of grandpa's old guns? Wondering how to get the rust off?
Look no further. We will go over the best way to take rust off a firearm, and some things to avoid doing.
It is worth noting that this will only help in removing surface rust off a firearm. If your gun has fully rusted through, it is going to take significantly more work than what we are recommending here.
What is Rust?
Rust forms when iron reacts with oxygen.
This process is referred to as oxidization. The process is generally really slow, but can be significantly sped up when the metal is introduced to salt or water.
This is the reason that one day in the rain can cause surface rust to form on a firearm.
How to Remove Rust
Removing rust is not a hard process.
You will have to essentially scrape it off, using a metal that isn't as hard as the metal of the firearm.
You can use a harder metal, but it will ruin the finish of the firearm.
For this reason, your best bet to remove the rust off the firearm is going to be copper products. To successfully remove the surface rust, you're going to want:
Copper wool. You can use copper wool to scrape the whole outside
Copper brush. The copper brush will help you get into the more tight spaces, and a caliber specific size will allow you to clean the barrel
Dry rags. Rags will help to wipe the scraped off rust off the surface of the firearm
Removing the rust is pretty easy. You just need to scratch it off using the copper products already mentioned.
It really is that simple. There is not an easier way to do it safely. It's just going to take some elbow grease to get the rust off.
How Not to Remove Rust
There are quite a few rust removal products available on the market.
While these may work for other metals, I would strongly recommend against using these chemicals on a firearm.
Since you don't know what the surface of the firearm was treated with and what else might have been added to the metal, you have no idea how the chemicals will react with the metal of the firearm.
The result could inadvertently ruin your weapon. I have heard of some people using Evapo-Rust as a worst-case scenario rust remover, but would still recommend against that, if at all avoidable.
You should store gun with best gun safe and dehumidifier, it will help your gun cleaner.
Conclusion
That's it. It really is that simple to remove the rust off of a firearm.
Unless it is completely rusted through, using some copper wool, a copper brush, and some good old-fashioned elbow grease will take care of the surface rust on a firearm.
There are some commercially available rust removal chemicals, but I would strongly recommend against using these.