10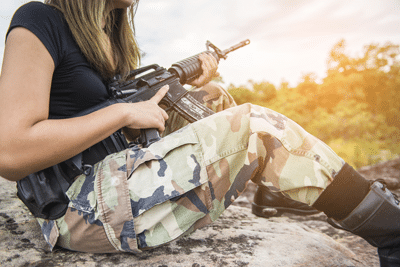 What is the Legal Barrel Length for an AR-15
If you are trying to build an AR-15 and avoid having to go through the process of getting an ATF-approved tax stamp, you're going to need to know the legal barrel length for your weapon.
In the military, M4 barrels are 14.5 inches long. This was a vast reduction in size and weight compared to the 20-inch barrel of the M16.
However, what barrel length is legal in the civilian world?
The Simple Answer for the Legal Barrel Length for an AR-15
Putting it as simple as possible, the answer to this question is 16 inches. However, as with many things in the firearms world, there are some workarounds to this.
Muzzle Device
The first workaround is a permanently attached muzzle device, such as a flash suppressor.
In this situation, you are able to buy a 14.5-inch barrel and a specific muzzle device and have a gunsmith pin-and-weld the muzzle device to the barrel.
In most of these flash suppressors, it will be specifically stated that you are able to have it pinned and welded, so be sure to check if it's possible before buying the muzzle device.
Essentially, pinning and welding the muzzle device makes it permanent, which in turn makes it part of the barrel. For that reason, you are able to count the extra length of the flash suppressor as part of your barrel length.
Keep in mind that this will come at an added cost, since you'll have to purchase the muzzle device and also pay to have it welded on for you.
AR-frame Pistol
The 16-inch barrel length only applies to rifles, NOT pistols.
You are able to build an AR pistol in various pistol and rifle calibers, which would eliminate the need for the 16-inch barrel. If it is technically a pistol, the barrel can be much shorter.
However, when building an AR pistol, there are a few laws that you need to keep in mind. Since that isn't the point of this article, we won't go too much into them. It basically boils down to the buttstock of the weapon, and there are some specific design features that must be accounted for. Make sure you know your laws if you take this route!
Get the Tax Stamp
Lastly, if you want a shorter barrel, you can always just get the tax stamp from the ATF. Once your weapon is classified as a short-barreled rifle (often called SBR), the length of the barrel won't be a problem.
This is a somewhat length and time-consuming process, but it is the only way to legally have an AR-15 rifle with a barrel less than 16 inches. Related that, if you are intending to buy a scope for your ar 15, you should choose Nikon or Vortex, it's my favorite.
Looking for AR-15 parts? Check out these from Brownell's
We found a collection of great AR-15 parts and accessories that may interest you, check them out:
Conclusion
To make a long story short, the answer to the question is 16 inches. Your AR-15 barrel must be at least 16 inches in length to be considered legal by the ATF. Anything shorter than that, and you will have to get an SBR tax stamp from them.
However, as we mentioned in this article, there are a couple of workarounds you could pursue to avoid having to get the tax stamp. But, like with anything, make sure you know the laws about what you are doing.