3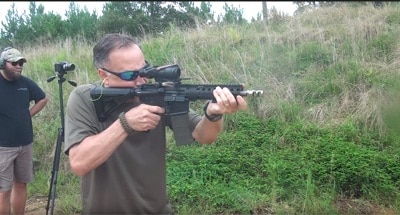 What is ACOG Scope and Why You Should Buy One?
What exactly is an ACOG scope? Should you buy one? If these thoughts have ever gone through your head, look no further!
This article will go over some basics about one of the best AR-15 scope available, the ACOG.
The Basics of ACOG (Advanced Combat Optical Gunsight)
The Trijicon ACOG (Advanced Combat Optical Gunsight) is a red dot style sight.
Red dot sights have been written about multiple times on this website, so we will not discuss the basics about red dot sights. An ACOG is an example of an internal reflex sight. This kind of sight has multiple lenses, and has a tube shape.
The ACOG has a fixed magnification, meaning that it is not adjustable at all.
However, from the manufacturer, there are multiple magnification levels available. This allows you to select exactly how much magnification you need, from 1.5 to 6 magnification power.
Without variable magnification, there is less moving parts, so the scope is more durable.
The scope is compact, and uses a red dot aiming reticle.
However, this red dot is different than almost every other optic available on the market. The red dot on the ACOG isn't battery powered, but have tritium in a fiber optic cable that illuminate the reticle based on how much light is available.
This completely eliminates the need for a battery, which is one less thing to worry about.
The reticle also has a bullet drop compensated reticle, which further increases its accuracy.
Another excellent feature of this scope is how rugged it is. It is made from high strength aircraft aluminum, making it extremely strong.
The manufacturer claims that it's virtually indestructible. It is also waterproof to 100 meters. To prove its strength and durability, it is widely used in the United States military.
Here is video 500 meter- Ar15 with ACOG Scope:
How to Use that ACOG?
The beauty of the ACOG is how simple it is to use.
Without batteries, there is no turning the scope on or anything. Assuming the optic is zeroed, simply open the lenses, aim down the sight with both eyes open, and fire your weapon.
It really could not be easier to use. Looking down the sight with both eyes open makes it extremely easy to use.
Pros and Cons of ACOG
The biggest pros of this optic are:
Military approved strength and durability.
Battery-free use. Never have to worry about a dead battery, forgetting a battery, or turning your optic on
Magnification. While fixed, magnification is a nice feature in a red dot style sight
Accurate, and includes bullet drop compensated reticle
Reliable. There is basically nothing in this sight that can break. It will last more or less forever
The cons of this optic are:
The biggest problem of ACOG is

Price.

Fixed magnification. Many people prefer variable magnification
Who Should Use an ACOG?
An ACOG would work for just about every single person.
Whether you are a casual shooter, a competitive shooter, or a hunter, an ACOG will work for you.
The reliability and accuracy make this one of the best optics available. The different levels of fixed magnification allow you to select exactly how much magnification you need for the type of shooting you do.
The ACOG is also great for a new shooter, as they are very easy to shoot with, thanks to being able to shoot with both eyes open. It is also an extremely easy sight to zero and adjust.
There is only one specific group of people that I would not recommend and ACOG to. If you do a lot of traveling hunting or do other similar activities that require you to take shots at vastly different distances, an ACOG is NOT your best bet due to the fixed magnification. If you are regularly shooting at both 20 meters and 400 meters, you are probably going to want a variable magnification optic.
What is different between Elcan vs Acog
When it comes to the Elcan scope verses ACOG scope and which is better it really depends on your preference. Both scopes are labeled as 4x, but the Elcan is closer to 3.5x. However, the Elcan can be switched to a 1x mode making it easier to use I close range. One advantage of the ACOG though is that it is generally much lighter than the Elcan. The fact that it has less weight makes most people enjoy it. Both ACOG and Elcan scopes have excellent optics and good visibility. Both have a good range for a field of views. The eye relief can vary between them. When it comes to which is better between the Elcan vs. ACOG, it really comes down to personal opinion. The only way to know which one is better for you and your needs is to try both and see which one you like more. You really can't go wrong with an ACOG or Elcan scope.
Review about best ACOG scope for AR 15
Trijicon TA31 RCO ACOG 4x32 BAC Dual Illuminated Riflescope
What you're getting here are the best optics on the marked.
The Horseshoe/Dot 5.56 model is the epitome of optimized visibility. The illumination is not dependent on crappy batteries, which is one of the best features of this AR-15 scope.
While some aren't fans of the short eye relief, experienced shooters will note that because the visibility is so great as is, their line of sight is already better than it is without this scope.
For rapid shooting and tough range practice, this scope is the best available for your ar15. You'll find bullet drop is stress-free.
The promise is ranges out to nearly 2,000 feet, which has been tested and proven. A solid option
When compared with other models of this Trijicon ACOG, the H/D 5.56 stands tall because of how adaptable it is and the easy mounting.
Conclusion
While not everyone feels as strongly as I do, I think that the Trijicon ACOG is one of the absolute best optics available.
I have shot with multiple different optics, and the ACOG is by far my favorite that I've used. I love the strength and durability, battery-free operation, and the accuracy.
As far as reflex style red dot sights and weapons optics in general go, there isn't much I prefer over an ACOG.
I highly recommend you look into them, and seriously consider them when you are shopping for your next optic.