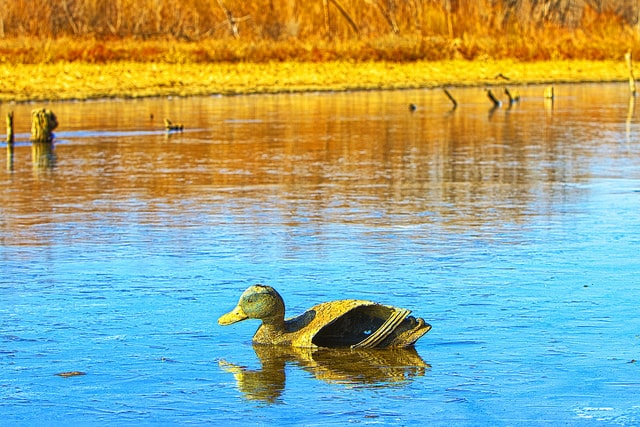 How to Set Up Duck Decoys for More Effective Hunting
Now that you have put together a collection of duck decoys, the obvious question comes up: How to set up duck decoys and decoy spreads.
This is where the artist in you gets to come out, as you develop a strategy to create a spread that optimizes both the surroundings and your collection.
Here in this article, we will look at the basics for how to set up your decoy spread, what to look out for, and I'll re-emphasize the importance of patience.
How to Set Up Duck Decoys the Best Way
These are the basic introductory steps:
1. Identify your surroundings.
If you're hunting in a swamp or shallow water basin, keep everything as versatile and mobile as you can. Don't make it hard to break down and pack out. Keep your ducks clean and shiny to maximize realism. If you are setting up a permanent spread, try to create a scene. Place your decoys where you have seen ducks congregating in the past, and don't just focus on one area. Get the whole spread as thorough as you can using a couple of hundred decoys, if possible.
2. For non-permanent spreads, use light-weight anchors.
In swamps and shallow backwater, you won't need more than 6oz anchors. Or, use over-the-head anchors or neck ring anchors. For larger bodies of water, upsize to 12-16oz neck rings or over-the-heads.
3. Make your mallards a prominent attention-grabber.
Mallards are the universal duck, found in many locations and known to socialize with other species. Thus, having your mallard decoys spread around isn't going to intimidate approaching ducks (in fact, it should help draw them in). When planning how to set up a duck decoy spread, start here.
4. Then, place pintails and black ducks.
The white tails and all-black bodies add another touch of realism to your display. Place them in highly visible areas, preferably around the perimeter of the spread with one or two in the center. These are the two primary decoys you should employ in addition to the mallards. Unless you already own other decoy species, don't worry about obtaining them because you'll get the added attention-grabbing out of pintails and black ducks.
5. For permanent spreads with high visibility, use standard size decoys.
They are easier to pack in and set up. Because the ducks will see the spread as they approach, there is no need to use larger decoys. Save these for low-visibility spreads. While you'll want to have some ducks in clusters, be sure to spread ducks out throughout the available area so that approaching fowl will be enticed no matter the direction, height, or angle they are approaching from.
6. Use the most attractive decoys to lead into the preferred landing zone.
This should be set up so that you'll have maximum visibility from the blind or shooting spot without having to move and potentially scare the ducks.
7. Put a line of ducks on a log.
Then, float the branch out into the water (with a jerk string to pull it back in). Ducks love to lounge on floating logs, and a bit of an active touch like this can really increase the attractiveness of your spread. Leave space on either end of the setup for incoming ducks to land – try to leave enough room for a few ducks, so that the approaching fowl has plenty of space without overcrowding.
8. Use wing-spinners and butt-up feeders.
These help your spread touch on as many triggers of a duck's senses as possible. Feeding, flying, resting, and calling (of course you still need to be a good caller!) will help make your spread irresistible.
Additional Thoughts About  How To Set Up Duck Decoys
Remember, always keep a positive attitude! No matter how good your spread is, some days the ducks just aren't going to bite. The important thing is not to let this get you down, or to think you aren't good enough to attract them. Even the best big league hitters have a slump now and then, and it isn't because they aren't working hard.
Part of hunting is luck and the mood of the fowl. If you catch them on the right day, your learning how to set up a duck decoy spread will be the icing on the cake luring them into your arms.
After setting up your spread, hunker down and wait. Be patient, bring beer and lunch, and accept the fact that you're working on their schedule, not yours. Be prepared for periods of overwhelming activity as well as periods of mind-numbing boredom (that's what the beer is for!).
Conclusion
Setting up a duck decoy spread is a fun and worthwhile activity, and if it's your first one you still have the benefit of feeling it out and seeing what works for your setup. Remember- don't get discouraged. Do some rearranging and try slight alterations. If you enjoyed this article, please share on social media and feel free to comment! Let's get a conversation going.