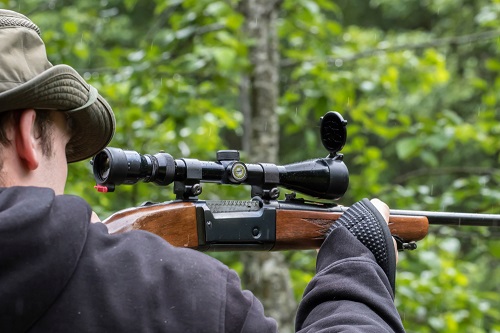 What is the Best Scope for a 308 Rifle
Finding the best scope for your M308 is important because it is a powerful gun that can shoot a long range in the right situation. You want to make sure every chance you have is the right situation, and one of the ways you can do that is by using a top quality scope.
Even the best shooters need a good scope to help maximize their range and accuracy with their rifle. That is why in this article we will look at some of the best M308 scopes on the market. There are a lot of different scopes to choose from out there, and it can get confusing, so this article is designed to help you find the right scope for your needs and save you a headache when it comes time to get a scope for your M308. If you do not have time to read all review, you can quick check here:
Nikon P-308 4-16X42mm Riflescope, Matte, BDC 800 Editor's Choice
These are all top quality scopes, and you can't go wrong with any one of them, but we are going to dive deeper into each one to explain why it is one of the best scopes for your M308. Read on to learn everything you might want to know about each of these scopes and also some tips for when you pick out your M308 scope.
Top Our Pick For Best Scopes For 308 Rifle In 2018
1. Leupold VX-1 3-9x40mm Compact Waterproof Fogproof Riflescope, Matte Black
The first scope we are going to look at is the VX-1 from Leupold. This scope is a top quality scope that looks great in its matte black finish. The scope measures 12.6 inches long and weighs 11.2 ounces making it lightweight and easy to use, but also keeping it balanced, so it doesn't throw off your shot. Since it is so lightweight, you can shoot with this scope for hours and not suffer from fatigue, and you can also move around easily with it. The VX-1 has a strong construction out of strong metal, and the tube is sealed using a nitrogen sealing process which has become the industry standard making this scope rugged and durable. The scope is absolutely waterproof, fog proof, and weather resistant.
The eye relief for this scope is 4.2-3.7 inches, and the actual magnification is 3.2-8.8 times. The magnification can be fine-tuned and adjusted with one-fourth clicks. This makes it so you can get it focused spot on, on your target. The field of view is 34.6 feet to 14.6 feet at 100 yards depending on the magnification you have it set on. The view provided thru this scope is also bright and clear. The glass is top quality, and the aperture is 1.6 inches allowing for plenty of light to get in. The lens system in the Leupold is multicoated, and there are four lenses allowing for maximum contrast even in low light conditions. It has an LR duplex reticle making it easy to see where you are aiming.
Users really love how well this scope works. It is easy to get it zeroed in and easy to use. Users love how bright it is and the contrast it provides along with the amount of magnification. If you are looking for a lightweight scope for your M308, then you can't go wrong with the Leupold VX-1. It is durable, bright, and gets the job done in every situation.
2. Nikon P-308 4-16X42mm Riflescope, Matte, BDC 800
Next up we have another matte black scope, and this one is the P-308 from Nikon. You may be familiar with Nikon from their cameras and lenses, but they also make rifle scopes and top quality ones at that. This shouldn't surprise you really because a rifle scope is very similar to a camera lens. It is a tube with glass elements that provide magnification and move to get focus. The P-308 measures in at 13.5 inches long and weighing 19 ounces making it a little heavier than the previous scope, but still fairly light. The scope can still be used for all-day shooting, and it is balanced so it will not cause fatigue.
The scope is constructed of strong metal and multicoated glass elements that allow for maximum light while reducing reflection. The scope can be used in all lighting conditions and provide a sharp, clear view. The tube is weatherproof and won't fog up or get damaged easily. The eye relief is a nice big 4 inches to 3.7 inches, and the field of view of this scope is 25.2 feet to 6.3 feet at 100 yards depending on the magnification being used and man can this scope provide some magnification. The magnification range is four to twelve times meaning you can really get zoomed in on whatever you are shooting. This scope is also easy to adjust. You can use the knobs to adjust it and can even adjust it out in the field if need be.
Users really love how easy the Nikon P-308 is to use. They love the precision that it offers and also the top build quality. They like how you can get good magnification, but still be able to have a wide and clear view. If you are looking for a scope that can magnify a decent amount but still allows you to see a decent amount of area around your target, then the Nikon P-308 might just be the best scope for you. It is easy to dial in and won't get damaged from a lot of hard use, and it is small enough you can use it all day with no issues.
3. Vortex Optics Crossfire II Adjustable Objective, 30mm Tube, Second Focal Plane Riflescopes
The last scope we will look at on this list is the Crossfire II from Vortex Optics. Vortex Optics makes top quality scopes for all sizes of guns, and the Crossfire II is no exception. This scope is matte black like the others and measures 14.5 inches long and weighs a whopping 23.6 ounces. This is pretty heavy for a scope, but it is balanced well and provides a lot for the weight. The tube of this scope is strong and sealed well like the others. It is waterproof, fog proof, and shockproof. The scope also has top quality glass lenses inside of it.
The glass inside this scope is top quality and provides a crisp and clear image. The reticle makes it easy to see what you are aiming at. This scope is also easy to use and adjust. The eye relief that this scope provides is also decent at four inches. The field of view of this scope is less than some others at 17.3 feet to 4.4 feet at 100 yards depending on the magnification. The magnification is where the Crossfire II really shines through and why it weights a bit more. This scope can magnify from 6 to 24 times. That is a crazy amount of magnification and when considering that big of a range the fact that it weighs as little as it does is impressive.
It is easy to adjust the magnification as well with this scope using the knobs and quarter clicks. Users love the easiness to set up this scope and how bright the optics are. They also loved that it comes with a top quality warranty. They also love the lens quality and how well the anti-reflective coating works. If you are looking for a high powered scope that provides a lot of magnification, then the Vortex Optics Crossfire II might just be the scope for you. The other scopes on this list can't compare to how much magnification this scope offers.
Which one for you?
So, now that you know about all the scopes you still may be struggling a little to figure out which one of these M308 scopes is the best for you. Well, a quick break down to help push you in the right direction. If you are looking for the most powerful scope with top magnification, then you should probably choose the Vortex Optics Crossfire II. If you are looking for the lightest and smallest scope and don't need a lot of magnification, then the Leupold VX-1 should be the one you buy. Lastly, if you want something in the middle of lightweight, but good magnification, then that is where the Nikon P-308 comes in. The thing is though all these scopes are great and you can't go wrong with anyone.
Conclusion
So, now you know three of the best M308 scopes on the market. This article should help you narrow down your search or at least give you a better idea of what to look at when choosing a scope for your M308. All three of these scopes are great. They all have their benefits, but they also all have some drawbacks. Anyone of these scopes can be the best scope in the right situation though, and it is just a matter of you putting it in the right situation. Now you should be able to figure out which one of these scopes is the best M308 scope for your needs and which one will help make your M308 the best rifle you have.