4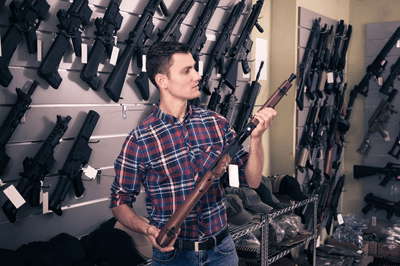 What Cool Alternatives Are There to an AR-15?
Don't get me wrong, AR-15s are awesome. They are an extremely popular weapon system because they are very easy to build and use. They are extremely customizable and are available at inexpensive prices.
However, some people may not like them for a variety of reasons. They are extremely common, so maybe you are trying to stick out at the range.
Whatever, the reason may be, there are some excellent alternatives available to the classic AR-15. While these may be slightly more expensive for the most part, they are still fun weapons. In this article, we will go over a few examples of these AR-15 alternatives. Let's get into it!
AK47
First and foremost, let me say how much I love the AK47. There are hundreds of different variants available, and I've enjoyed every one that I have shot.
Compared to an AR-15, AK47s aren't quite as accurate, but they do shoot a larger bullet. For hunting and defense purposes, this could be a good feature for you.
I think the weapon is pretty sleek looking, especially with wood furniture, and they are notorious for their reliability.
2. FN SCAR
Anyone who has spent some time playing video games is familiar with the SCAR. It is used by some militaries, and is an absolutely excellent weapon.
Similar to the AK47, this rifle also shoots a larger bullet. While the AK shoots 7.62×39, one version of the SCAR shoots 7.62×51. This is an excellent round for big game hunting or defense purposes. The other version of the SCAR shoots the same round as the AR-15.
However, for as high quality as this weapon is, it is also worth mentioning that is about five times as expensive as the least expensive AR-15 weapons. If that is not a problem to you, definitely check out this weapon!
Bushmaster makes a version of the SCAR, called the ACR, that is slightly less expensive.
3. Steyr AUG A3 M1
This is the first of the so called "bullpup" rifles we will talk about. These types of rifles have the action behind the trigger, which shortens the overall length of the weapon. Essentially, these are similar to the P90, except they are in rifle calibers.
The AUG is used in the Austrian army, and is available with multiple different optics and rails from the manufacturer.
The rifle is extremely easy to breakdown, and shoots extremely well. Its distinct styling is sure to stand out, and the performance will be there to back it.
It shoots the same NATO ammunition as the AR-15, and is a pretty lightweight weapon. The trigger pull is slightly heavier than some others, but it is a great weapon to shoot.
However, similar to the SCAR, this weapon is significantly more expensive than the AR-15. Relevant to it, if you are looking the best scope for ar-15, i highly recommend the Vortex :).
4. IWI Tavor
Next up is another bullpup rifle. The Tavor X95 shoots the same NATO round as the AR-15. It cycles extremely smoothly, and has an excellent trigger pull. It's got a great rail system, and is a very accurate weapon.
It is available in a few different colors, and has some excellent stock sights. The front folding sight has tritium inserts, so they are extremely easy to use. In my opinion, this weapon is slightly better looking than the AUG, and is also available at a less expensive cost.
In my opinion, both the AUG and the Tavor are fun to shoot. The difference between the two is almost negligible.
5. FN FS2000
The last bullpup rifle on our list is the FS2000. Similar to the SCAR, this rifle is made by FN, and it is an extremely high weapon. It shoots 5.56x45mm NATO.
This weapon only has one rail, as opposed to some of the others, which had more.
In my opinion, this rifle isn't as sleek looking as the other bullpup rifles, but it is still a cool looking weapon. In terms of action, this is a good weapon. The FS2000 is also significantly less expensive than the other bullpup rifles.
6. Springfield M1A
Last up is a modernized predecessor to the AR-15. The Springfield M1A is a modern tactical M14. It is an extremely high quality weapon, and is a great AR-15 alternative. It shoots 7.62×51 NATO, so it is a larger cartridge than the AR-15.
This weapon has been around for a long time, and the modernization is a welcome touch. There are multiple models, so you will be able to meet your needs. Overall, this is a great quality weapon.