2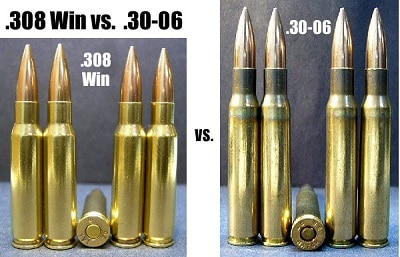 Which Is Better Between .308 Winchester vs .30-06 Springfield?
Both .308 Winchester and .30-06 Springfield are extremely popular rifle cartridges, specifically for big game hunting. Are you looking for some of the differences between the two?
We will help you make a decision today by comparing the two cartridges in terms of size, ballistics, and performance.
H

istory of 2 Cartridges
Before getting into the specifics, we will give a very brief history of both rounds.
.308 Winchester: .308 was developed over 50 years ago, but despite its age, it is a very popular hunting round. It has retained its popularity for hunting due to its deadliness. In fact, it is the most widely used big game hunting cartridge in the world.
The cartridge is the starting point from which 7.62x51mm NATO was created, which is still widely used in the United States military today. On top of that, .308 is used by US military and various police snipers.
.30-06: It is well over 100 years old. Similar to .308, this round is still very popular today. Also similar to .308, the round was originally used in the US military. As a matter of fact, .30-06 is a parent cartridge of .308 Winchester.
Size
.308 bullets are 7.8mm in diameter, or .308 inches. The case measures 2.015 inches, and the overall length is 2.8 inches.
.30-06 bullets are also .308 inches in diameter, but the case is much longer. The case of .30-06 cartridges is 2.49 inches long. Overall, the round measures 3.34 inches.
In terms of size, the primary difference is the case length. While the projectiles are somewhat similar, .308 cases are much shorter. .308 is a short action rifle cartridge, meaning that it is fired from a weapon with a smaller bolt. This cuts down on the weight of the rifle.
Ballistics
The projectiles of .308 cartridges commonly weigh between 150 and 170 grains. Some hunting ammunition has bullets that weigh 178 to 185 grains. These projectiles are fired with a muzzle velocity of between 2600 and 2800 feet per second. This equates to around 2700 foot pounds of torque.
.30-06 projectiles weigh between 150 and 180 grains, generally speaking. When fired, the muzzle velocity of these bullets are around 2700 to 2900 feet per second, which is around 2800 foot pounds of torque.
In terms of effective range, the rounds are very similar. Both cartridges can be expected to shoot around 700 yards, dependent on the exact weapon and cartridge chosen.
As you can see, the bullets are extremely similar in size and weight. However, the primary difference comes with the fact that .30-06 bullets are fired with a greater muzzle velocity and energy. This comes from the fact that the case is longer, so they are able to fit more propellant into the cartridge. For this reason, this cartridge is deadlier than .308.
What about Price of .308 Winchester and 30-06
The ammunition of both calibers is extremely commonly priced.
Much of the same ammunition is available for the two rounds, and the prices are generally close together. In making your decision, price will not be much of a factor.
Weapon
One difference worth mentioning is the available weapons in each caliber.
.308 weapons run the gamut. Since it is a short action cartridge, there are multiple options available. There are bolt action rifles and modernized tactical rifles, such as the AR-15, that are all available in .308. best ar15 scope is good option for .308 rifle.
Due to its added length, .30-06 weapons are much more limited. There really aren't many tactical weapons available. Most .30-06 weapons are either bolt action or lever action, although there are some exceptions. There are a couple semiautomatics and at least one pump action rifle.
.30-06 weapons will also be much heavier.
Recommendations
If you will be hunting from a stand or doing any other type of hunting that does not require much walking or movement, we recommend .30-06. The increased deadliness will be worthwhile.
If you are going to be doing mountain hunts or some stalking, we would recommend .308. There are lighter weapons available that you will be able to move around easier.
If you are looking to do precision shooting, we recommend .308. It is slightly more accurate.
Conclusion
Both rounds are an excellent choice for big game hunting. There are very slight differences between the two, but we hope that this guide has been helpful.