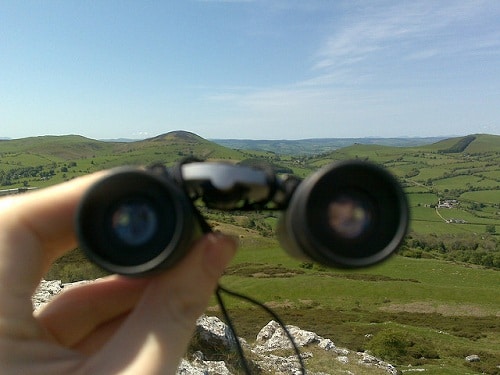 How to Use Binoculars in the Right Way
Binoculars are the perfect addition to just about any outdoor activity. Hunting, fishing, bird watching, you name it. But do you know how to use binoculars?
Binoculars improve visibility and help the user specifically focus on their target. If taking a shot or observing an animal from afar, they improve accuracy over a long range. Here are the best practices for how to use binoculars.
Set up the binoculars for optimal use
Adjust the distance between the two eye barrels to be appropriate for your face. Binoculars will stretch or pull tighter and hold that position for use. If the binoculars aren't property set to you, you will see black edges in the peripherals.
Use the neck strap. You don't want to set the binoculars down and forget them or risk having the settings compromised. By strapping them around your neck, you can relax the set when not in use while still having it ready to go very quickly.
Preferably, purchase a pair of binoculars with a diopter. This allows the user to focus both eye pieces at the same time, as opposed to having to do the process twice and risk them not being set equally. This can cause blur or otherwise be distracting.
This video walks users through setting their binoculars.
Identify your target and focus
Before zooming in, figure out exactly what it is that you're going to look at. To get set, pick a solid object up against a solid color. A building, tree, or tall plant set against a cloudless sky is perfect.
Turn the diopter or central focus wheel until the object is perfectly in focus. Be sure that both eyes are set and feel comfortable. If you've gone too far in, zoom back out. I always recommend testing a few settings, even after you've found one that feels great. That way, you are confident the setting used is the best one.
For fine focusing, close the right eye. Using only the left, adjust the diopter to the specific setting that feels perfectly in view. Be sure the object you are focusing on is in clear, fine focus.
If your eyes are strained or fatigued, re-adjust. There's nothing wrong with using more than one focus setting throughout the day.
Clean the binoculars
After use, you'll want to clean the binoculars for next time. This helps keep the set optimized for long term use. You'll notice that dirty lenses make it incredibly hard to find the perfect zoom and focal points. This can lead to headaches and fatigue.
When cleaning, be careful not to scratch the lenses!
Using an eyeglass brush or cloth, wipe away any dirt or particles that have collected on the outside of the lends.
Use eyeglass solution to really get those lenses shining.
Look through the binoculars to ensure there are no smudges or streaks on the lenses.
Return the binoculars to their case and store them in a place that won't get to hot or cold.
Here is a great video on cleaning binoculars.
In recent years, I've been using binoculars more and more to hone in my hunting and bird watching. A good pair really ups the visibility and improves accuracy with long range shooting.
Now that you've discovered the joy of using binoculars, please share this article on social media so that those closest to you can do the same! I love hearing about new tricks of the trade and activities, so feel free to comment as well.
Featured Image by Frankie Roberto