11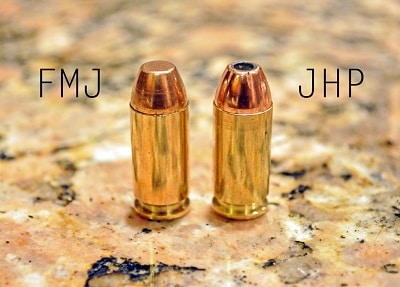 Full Metal Jacket vs Hollow Point: When to Use Each and Why?
Full metal jacket or hollow point? This frequent topic of debate is one of the few gun-related topics that actually has fact-based evidence to support both sides of the argument.
I love hollow point bullets and carry them in my concealed weapon. I also like to use them out in the field, and will get into the reasons why in this article.
What many people don't understand is that there are significant differences between these types of bullets. Let's take a look at what those differences are, and when each type is preferable over the other.
Definition of Full Metal Jacket and Hollow Point Ammo
What is full metal jacket ammo?
Simply put, full metal jacket ammo is frequently made of a soft lead core built inside of a shell made up of hard metal such as cupronickel or gilding metal.
The general preference for this type of bullet often stems from the desire for increased muzzle velocity. These bullets maintain their composure and trajectory better than almost any others on the market.
In some cases, full metal jacket ammo contains a steel alloy casing.
FMJ bullets are incredibly strong – it is difficult for metal piercing substances to damage the bore of the bullet.
This, combined with the fact that these bullets do not expand upon hitting their target, makes them ideal for target shooting. Instead of expansion causing the bullet to slow and stop inside the target, full metal jacket bullets pass through and continue on a trajectory.
Full metal jacket ammo is cleaner than unjacketed bullets.
Everything within the bullet is fully concealed. All that has to do with the shooting process is smooth and straightforward, perfect for semi-autos.
For a 9mm, full metal jacket ammo is cleaner and stronger than hollow point.
What is hollow point ammo?
Hollow point ammo is preferred by hunters and those in defensive situations because it expands upon impact.
This type of ammo maximizes the stopping power of the shot. Targets are crippled and immobilized much more so than they are with full metal jacket ammo, increasing the odds of kill and of a successful hunt.
The expansion is caused by the hallow shape in the tip of the bullet. This allows the internal organs and tissue of the target to be severely impacted and wounded. Penetration is minimized.
For maximum power, many experienced shooters like to use jacketed hallow point bullets.
I personally have found these bullets extremely effective, as the added layer of metal delivers more impact than they otherwise have. What you will find as you progress as a shooter is that hollow point ammo is more versatile than full metal jacket in many situations.
For a 9mm, hollow point bullets are better for shoot to kill and self-defense situations.
Here's a demonstration of the two.
Full metal jacket vs hollow point: When to use each, and why
Full metal jacket ammo has a bit of a sexy appeal to it.
New shooters are attracted by media coverage and the 1987 movie of the same name. It's proven successful and useful in many military situations and other scenarios.
However, many experienced shooters as well as concealed carry activists prefer hollow point bullets. Let's take a look at the breakdown:
Self-defense: Full metal jacket ammo is not often used in self-defense situations. Because it is a small-arms projectile, it can be used in concealed carry guns. These bullets are designed to move through its target and keep going, it often isn't used for self-defense due to the risk of the bullet striking an unintended target.

Use hollow point ammo for self-defense

Pass-through

: Another fact about full metal jacket ammo is that due to the reduced expansion, the fact that they pass through what they hit often leaves targets less impaired than they otherwise would have been.

When hunting, this can allow a target to move or remain slightly agile following impact

Quick feeding:

Full metal jacket ammo feeds quickly and efficiently. Hollow point ammo is slightly less efficient in this category

Disco shooting and range practice

: When firing at clay pigeons, you don't really need the bullet to expand. They are going to break immediately upon impact. Full metal jacket bullets are fine for this, as long as there is no risk of unintended impact further down the range. The same goes for standard targets. Really, these situations are where specific shooters like to use what they are comfortable with

Hunting:

In general, a shooter wants to maximize the impact of his or her shot. To do this, the expansion of the hollow point bullets is extremely preferable. I first figured this out as a kid hunting with my dad, and have never really gone back from it
If you're planning to head to the gun store to buy some basic ammo for your concealed carry gun or next hunt, the best thing to do is go with hollow point. You'll find more uses and will have less trouble locating waste and hit targets.
Here is a great video comparing the two.
Conclusion
As you've seen here, there is quite a difference in full metal jacket vs hollow point bullets. I hope you've gained a better understanding of them.
The general takeaway here is that hollow point bullets expand on contact and thus are more preferable for day-to-day situations because they reduce the risk of hitting targets downfield.
Full metal jacket bullets are stronger and cleaner, and generally better for situations when downfield unintentional targets are not an issue.
If you've enjoyed this article, please give it a share on social media. The more education and knowledge we can build in the gun community, the better for all. I'd love to hear about which you prefer – feel free to throw a comment down below and we'll get a conversation going.